Channel Your Inner '70s Bombshell With These Celebrity-Approved Shag Haircuts
SOPA Images/LightRocket/Getty Images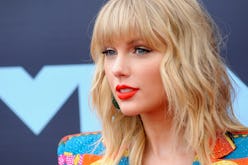 The '70s had a major resurgence in 2019, commanding everything from corduroy bellbottoms to patchwork and fringe back into style. Some even took it as far as to cut their hair into that feathery Farrah Fawcett look that was so characteristic of the decade. Celebrities like Anne Hathaway, Taylor Swift, and Selena Gomez are rocking shag haircuts lately and they might just be dreamy enough to make you follow suit.
Curtain bangs are in. Retro waves? In. Long and straight like Cher's was back in the day? In. The most popular of them all, though, is the ultra-layered shag cut, often worn flipped out in every direction with choppy bangs à la Jane Fonda (or Mick Jagger, if you'd rather) circa-1978.
This particular haircut sure does look to be low maintenance. Messy is the name of the shag game, so lazy girls (like me) can go out with veritable bedhead and still be on-trend.
The throwback style can be adapted to hair of any length and type. Curly girls are not left out (proof: 2017-era Zendaya). Ahead, a few of The Zoe Report's favorites.
Anne Hathaway
Last spring, Anne Hathaway cut her hair into a piece-y, shoulder-length lob with feathery, face-framing layers — quintessential '70s. The "after" photo that her hairstylist, Adir Abergel, posted on Instagram made the entire Internet swoon. This was, perhaps, the exact moment when every it-girl called her own hair guru and said, "give me the Anne Hathaway."
Courteney Cox
Before her mini makeover this past fall, Courteney Cox had the same hairstyle since Friends ended. After all those years, it was this wispy look that finally warranted an update. She allowed George Northwood — hairstylist to Brits like Alexa Chung and Ellie Goulding — to work his shag magic on her while in London (hairstylist Sally Northwood took care of the color). Her new look is proof that you don't need a ton of wave to wear the trend.
Selena Gomez
The latest convert is Selena Gomez, who made her shag debut whilst stepping out of a London town car in a pair of round aviators and double denim like the retro goddess she is. Gomez's new look is a refreshing departure from the blunt bobs she's been wearing, but she has, in fact, tested the aesthetic before: A photo on her longtime hairstylist Marissa Marino's Instagram shows her with a more Brigitte Bardot-inspired look in 2016.
Taylor Swift
T. Swift has been churning out shag inspiration since before anybody even realized it. Her wavy bob-with-bangs slowly morphed into what you can now see is full '70s, but it was a slow and subtle process. Her latest magazine covers — Vogue, Time, and the like — could be mistaken for antiques at this point. Swift's version of the cut is perfectly choppy and always a little disheveled in that cool girl way.
Chrissy Teigen
Teigen was one no one saw coming. The model typically sticks with clean bobs, lobs, and long styles, but in December, she debuted a flippy, layered look. Whereas most people are committing fully to the '70s vibe — either unwashed and tousled or blown out and feathered — Teigen has achieved a sort of in-between while still keeping it tidy. This is a more modest, updated interpretation for the ones who don't want to dive in head-first.
Suki Waterhouse
You could call Suki Waterhouse the queen of unkempt hair. She, like many other models from across the pond, can go out looking like wind-blown chaos and still everyone in the world would try to recreate it. The shag haircut has been her signature look for quite a while. Lately, she's been styling it with loose, voluminous waves and long, over-the-eye bangs.
Miley Cyrus
Then, there's Miley Cyrus, who seems to have been coaxed onto the shag wagon by the ghost of Billy Ray's former mullet. Her new look, debuted just this past week, is '70s with a touch of '80s rocker in the mix. It's short — barely shoulder length — with straight-across (business-in-the-front) bangs. It's edgy, without a doubt, but can also be made girly, as a later Instagram post shows.