These Animal Print Purses Are The Perfect Amount Of Classic And Trendy
Olivier Degoulange/Shutterstock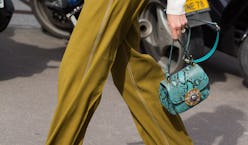 While colorful animal prints are everywhere this fall — from roaring red leopard to every shade of snakeskin — trying out this wild look can be a little daunting. And being that it's a bold trend, chances are it'll eventually go out of style — which means you're probably not interested in investing a ton of money into an animal print accessory that'll be outdated in a few months. If you're set on incorporating leopard into your wardrobe via your handbag, though, Need Supply Co. has tons of new animal print purses that look classic enough to outlast the trend.
Since buying a designer bag is an investment, it's important to find one that will fit seamlessly into your wardrobe for years to come. This Hudson Square Crossbody Bag by 3.1 Phillip Lim is $750, and utilizes a neutral print on a classic shape for a bag that will stand the test of time. And if you're looking for a bold option to add excitement to subdued outfits, embrace leopard print on a simple silhouette with this Marni leopard clutch for $700 — the shape will never go out of style, and the pattern adds just enough of a statement.
Not a fan of color? Consider Off-White's Croc Soft Boxy Bag. Retailing at $1,274, the bag features croc-effect embossing and a unique (but still sleek) bucket bag shape, and comes in a glossy black leather. The Clare V. Petite Alistair Crocodile Bag for $365 is an even simpler option that offers a crossbody strap for easy carrying or small top handles for an even chicer way to wear it.
For more animal print bags that'll stand the test of time (and look perfectly in style at the moment), keep scrolling for seven new purses from Need Supply Co. that bring classic and trendy together flawlessly.