The Surprising Amount Most Women Spend On A Secondhand Designer Bag
Cornel Cristian Petrus/REX/Shutterstock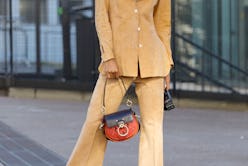 Often, a luxury handbag isn't just an accessory but also an investment —when you're on the brink of spending hundreds or even thousands of dollars on a single item, you can't help but consider how it will hold its value over time. So, are designer bags worth it? As it turns out, popular styles don't just retain their worth, but actually appreciate over time (the Hermés Birkin is a prime example). This has led to a piqued interest in not just buying bags new, but also secondhand."20 years ago, 'secondhand,' 'resale,' and 'preowned' came with a dirty connotation," Charles Gorra, founder and CEO of Rebag says via email. "It was associated with musty smells, stains, and unease about counterfeit goods. Resale has come a long way in the last decade thanks to the internet." But today, there's a certain caché that comes with scoring an impressive vintage piece, and online retailers like Courtyard LA and The Break have created an entire aesthetic around the secondhand styles they sell.
According to Rebag's data, women women will typically spend $1,000 on a designer handbags from the site — though average purchases can range from $300 all the way up to $15,000. While such designer bags represent a significant investment, the shopping choices of women reflect their shopping intentions. Some of the site's best sellers are the Chanel Classic Flap, the Hermes Kelly, and the Louis Vuitton Pochette Metis, styles whose enduring popularity help ensure that they'll maintain value over time. These are the bags that serve as an enduring investment.
Gorra also notes that over all else, functionality is what women prioritize when considering which bag to buy: "One of the reasons handbags are so universally used is due to their functionality and how they fit into a client's daily life." A practical and timeless silhouette in a neutral hue is simply easier to wear. That said, even the most coveted bags fluctuate in price — think of eBay's often-haphazard bidding model, for instance — which is why Rebag has its own proprietary software, "We built internally the equivalent of Kelly Blue Book for handbags," notes Gorra. "Just like the stock market, prices in the resale market go up or down based on supply and demand."
When it comes to shopping for buzzier styles, Gorra notes that a popular way of buying into the trend is by downsizing. "Small and mini bags sell the best," he explains. "The appeal for many mini bags may be the price, they do tend to be less expensive than large bags, which makes them more attainable."
Rebag's looking to take further advantage of the quickly-growing market with the launch of its Infinity program, which allows customers to purchase and then resell bags every six months, putting the credit toward the next style of choice. According to the brand, women consider selling a bag after six to eight months of use, making it an ideal window to consider swapping out a designer piece for something new. Other sites like Villageluxe and Rent the Runway have pioneered a lending model, but Rebag's new service is more similar to the way you might deal with your iPhone. After a pre-determined period of time, you sell your purchase back and put your money toward an upgrade. The fact that the brand authenticates every bag — going as far as to purchase it from buyers outright, then selling it directly — is a calming bonus. "That incentivizes us to be extremely diligent in our buys and to maintain high absolute standards, which will benefit the end customer."
For the investment shopper, holding on to a single style year over year may make more financial sense. But for the woman who tends to shop in a more trend-forward manner, designer resale behemoths like The Real Real, and Vestiaire Collective offer a chance to snap up hard-to-acquire pieces, whether they be limited edition or from a buzzy collaboration (Gorra mentions GucciGhost and Louis Vuitton x Supreme as recent examples on Rebag, specifically).
When considering for yourself whether or not to make the plunge and purchase a designer bag, it's important to consider what your intentions might be. While you might spend more on a quilted Chanel shoulder bag, if you hope to keep it for the next 20 years, consider price-per-wear: It just might be worth it. If you're confident that now is the time, shop a few favorite styles below.