Kim Kardashian West's Unconventional Take On Leather Pants Is Worth Copying
Stefanie Keenan/Getty Images Entertainment/Getty Images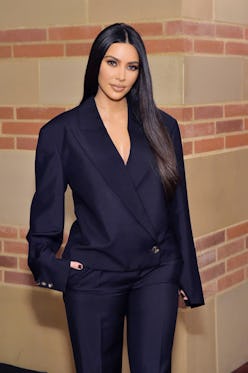 Known for typically sticking to a neutral-hued color palette when it comes to her wardrobe, Kim Kardashian served up a two-tone outfit recently that was surprisingly colorful. Furthermore, the unexpected look made a convincing case for light-colored leather pants, as the mogul and mom-of-four opted for a light blush pair instead of her usual black styles.
While doing errands in Los Angeles, the entrepreneur was photographed looking super-sophisticated wearing a long-sleeve, fitted top in a vibrant shade of coral that she paired with a sandy-pink flared leather trouser. She finished off the red and pink outfit with a light tan, pointy-toe boot that peeked out from beneath the tailored pant. Her sleek bob, however, was the cherry on top of this polished ensemble.
KKW is no stranger to a leather pant, but she's typically seen sporting a black pair, which makes this light colored style worth the attention. Her blush leather pant brings a refreshing twist to her look and may in fact inspire you to try out a pair for yourself. Luckily, there are a bunch of leather and faux leather styles in lighter shades that you can bring into your own wardrobe.
If you're loving Kardashian's light pink pair, then, definitely take a look at this $490 vegan leather belted style from Nanushka, and follow her lead by pairing it up with a blouse in a deeper shade of pink or red. However, you can also opt for this beige faux leather pant for $175 and style it with a knit in a rich shade of camel.
Leather pants can be dressed up or down, and will even make for an eye-catching addition to a holiday party look. So, before you pick up another pair in black, consider shopping one of the below styles to bring a lighter feel to your winter looks.