7 Things To Do Before Getting Dressed Each Morning
@pernilleteisbaek On Instagram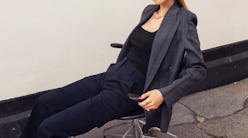 Quickly getting out the door in the morning is one of those all-too-familiar stressors that's become a fashion industry trope. For some inexplicable reason, despite the most valiant of efforts, things don't always go as planned. There will always be those days when it's ten minutes past your start time at the office and you're still in your apartment with half an outfit on in full panic mode. But, if you're ready to turn things around, it's time to establish a list of easy fashion tips that'll make exiting the premises looking well-dressed and put together the norm — not the exception.
Ahead, discover seven easy, useful ideas that speak to a relaxed, efficient approach to getting dressed. Learn a handful of thoughtful things you can to do to your clothing to make reaching for them in the morning an enjoyable task. And more than that, tried-and-true ways you can make sure your outfits are strong and stylish more often than not. Should these secrets work out for you— and they probably will — you'll have more time in the early hours to focus on mentally preparing for the day and setting yourself up for success, which is pretty much the best way to start any week, no?
Use Your Steamer (Every Day)
Long gone are the days when you were forced to excavate your ironing board and unnecessarily heavy iron from the back of the closet. Now, thanks to the glorious invention of the handheld at-home steamer, there are zero excuses to leave your house wrinkled. Most of these mini steamers take less than 30 seconds to heat up, which means giving your outfit a once-over before heading out for the day should be part of your normal routine. Plus, it's so satisfying to watch a button-down shirt full of lines suddenly become crisp and smooth, right?
Pay Your Tailor A Visit
Sure, there are more exhilarating ways to spend your weekend than lugging a sack of clothes to the tailor but trust that it's worth the time spent. Staples like blazers and trousers that fit your body perfectly are inherently going to make you look more polished and put together than something off the rack. In other words, if you're in a rush and you have an outfit you know fits you well, you won't waste time and you'll look great. Cha ching.
Buy Versatile Footwear
It's a commonly held belief that all outfits should start with the shoes. Whether or not you agree with this sentiment, it's inarguable that your footwear can certainly make or break your look, which is why your next shoe purchase should be something you can wear with at least 75% of your existing wardrobe, if not more. Before you purchase, put together a mental list of pieces you can see your shoes fitting with, just to ensure you won't be stumped when the time comes to throw something on.
Remember Good Outfits
Ever leave the house, walk around a bit, and realize you're looking really good? Take it a step further and document said amazing outfit so you can repeat and riff on it in the future — especially for days when you've hit snooze too many times. A folder on your phone filled with key pieces our outfits can help you streamline.
Lean On Neutrals
It's just a fact of life that even if you love to wear bright colors, neutrals are typically easier to style together. If you're having a particularly hectic morning and have no time to think about an outfit, reach for polished separates in neutral hues; they'll go together and you'll look professional.
Pack Your Bag The Night Before
Set yourself up for success by packing your work tote before going to bed. Usually that just entails making sure your keys, wallet, laptop, chargers, and any other miscellaneous items are already ready to go so once you're awake, that's the last thing you need to worry about. If you're particularly organized, set out your outfit the night before too.
Don't Forget Your Jewelry
Don't underestimate the power of a really cool pair of earrings or a nicely-arranged ring stack situation. Even if you're wearing a simple silk shirt and slacks, a sleek piece of jewelry can instantly elevate your outfit with little to no effort.