This Unexpected Pairing Will Be Fall's Most Popular Outfit Combo
@accidentalinfluencer On Instagram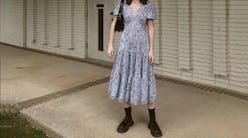 A single pair of shoes has the potential to propel the entire vibe of your outfit in a specific direction. Take, for example, a slip dress. Wear the staple piece with sneakers and you've assembled an easy weekend look you can wear to brunch or while running errands. Swap for strappy sandals and et voila — off to a dinner date you go. Going for penny loafers and socks? You've got an office-appropriate outfit once a blazer is layered on top. This fall, it's all about oversized footwear, but how to wear those chunky shoes with dresses? Below, the cool combination is decoded for you.
Goliath designers including The Row's Mary-Kate and Ashley Olsen and Miuccia Prada both sent models down the Fall/Winter 2019 runways dressed in gowns teamed with unexpectedly chunky shoes. At The Row, rubber-soled boots were styled with sleek mid- and ankle-length gowns cut in neutral colors. For Prada, the finale of the show procured a slew of women in colorful, tactile dresses styled with shin-high utilitarian boots. These moody combinations ushered in a punk nouveau combination for fall that feels both fresh and surprisingly polished. But beyond the runway, Instagram influencers are approaching the trend in their own inspiring ways. Read on so that once autumn rolls around you've got an arsenal of ways to tackle the dresses-and-chunky-shoes formula with ease.
Athleisure Layers
Lean into the slightly insouciant aesthetic of a dress worn with utility boots and layer a hoodie on top. The result is put-together, but has a laid-back attitude. Add a few key accessories, like sunglasses and a structured bag, to polish off the look.
Power Puff
Voluminous sleeves are here for the foreseeable future and the juxtaposition between an ultra-feminine puff-sleeve dress and platform creepers is divine, as witnessed above. Try it out for your next party look.
Moody Romance
Prada's pairing of floral and lace gowns with their shin-high lace-up boots was arguably the catalyst for this fall trend.
City Smart
For a truly effortless approach to this trend, simply wear a midi dress with a pair of utility boots and layer a trench coat on top; the three together feel polished and intentional.
'90s-Inspired
Grab a pair of chunky brogues or flats and white ankle socks and style the two with a feminine dress, like the bubblegum pink floral frock above. The combination feels like a subtle nod to Courtney Love's iconic '90s style.
Sleek and Simple
Yet again, Mary-Kate and Ashley Olsen prove the power in simplicity with this pared-down look from The Row's Fall/Winter 2019 runway.
Chic Sneakers
If chunky leather boots are too intimidating, try a lite version of the trend by opting for oversized sneakers instead.
Fall Florals
The easiest way to translate your florals dresses to fall is by changing up your footwear. Try a pair of black sheer socks with Dr. Martens.
Keep It Casual
If punk-goth isn't your aesthetic, you can still try a dress worn with chunky shoes, just incorporate a few lighthearted patterns and textures, like denim and floral.
Leather Lover
To achieve a look that feels less flowy and more structured, reach for a leather dress to style with your chunky shoes. Below, see a vegan option if you're not into buying real leather.
Slip It To Me
As previously mentioned, a classic slip dress is gloriously versatile, which means it fits nicely into the chunky footwear trend, as illustrated above on the Fall/Winter 2019 Collina Strada runway.
Accessory Play
The reason why this trend works is because it plays with balance; the contrast between a sweet dress and edgy, chunky shoes. As such, lean into this by incorporating playful accessories to contrast your footwear, like a padded headband.
Sheer Perfection
Simone Rocha's collections have always struck the ideal balance between moody and romantic, which is why her Fall/Winter 2019 runway is an excellent example of how to pull off this trend. This time around, play with a see-through dress and chunky shoes.
Mixed Media
Add a textural element to your look by complementing your chunky shoes with a patchwork coat and dress. The multiple colors, patterns, and textures come together for a dynamic outfit that feels unstudied and unique.