These Super Affordable Sheets Have A Near-Perfect Rating At Bed Bath & Beyond
Bed Bath & Beyond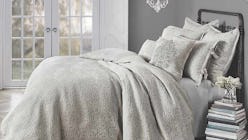 They don't call it beauty sleep for nothing. Clocking several consecutive hours per night is pretty essential if you're trying to chase a glowy, youthful appearance — and you know, just aiming to function properly on a day-to-day basis. Sure, you can stock up on sleep-encouraging supplements or other products that promise blissful shut-eye, but nothing really tops a terrific set of sheets. And before you think you've got to shell out for a super-expensive set from a high-end retailer, grab yourself the top-rated sheets at Bed Bath & Beyond for the best night's sleep you've ever had.
You likely don't take much time to think about your bed linens — they're something you sorta just end up with at one point, and stick with until it seems like you should probably invest in a fresh batch. And if you're due for a new set, you'll soon discover there's a seriously overwhelming variety of sheets out there. How are you supposed to find the best set for your most ideal sleep ever? Home goods mega-retailer Bed Bath & Beyond, with its wealth of helpful user reviews on the best bed linens available, is a great place to start.
As the name obviously suggests, the store stocks plenty of sheets — over 1,000 in fact — and it'd be easy to get overwhelmed by the options. But narrowing your search to just the most highly-rated reveals the top-tier sets you'll want to most seriously consider. Some sheets have received hundreds (and a few, even thousands) of glowing reviews, making it that much easier to ensure you're getting great linens you'll love.
Case in point, this 400 thread-count set from Wamsutta that's earned almost 950 five-star reviews. The quality, silky sateen-finish sheets, which just so happen to be on sale for $29.99 for a queen-sized set, have earned their top rating thanks to their smooth feel that users promise actually improves over time. One reviewer even said they've used the sheets for over two years, and they're still holding up well after weekly washings.
Equally as affordable and earning just as high ratings is the Truly Soft Everyday Queen Sheet Set, $27.99 at Bed Bath & Beyond. Instead of a sateen finish, these 4.5-star rated sheets have a super-soft microfiber weave that makes them incredibly cozy — and easy to care for. They're wrinkle-resistant so you don't need to worry about ironing after washing, and the set comes in 16 different colors so you can choose one that's cohesive with the rest of your bedding.
There's plenty more top-rated and well-priced sheets to choose from at Bed Bath & Beyond, from sets with super-high thread counts to linens that are incredibly low-maintenance. Whatever your preference, each well-reviewed set comes with the promise of a great night's sleep, so you really can't go wrong. Keep scrolling to browse some of the best sheet sets at Bed Bath & Beyond, below.