Bed Bath & Beyond's Massive Clearance Sale Has A Bunch Of Luxe Cookware Seriously Marked Down
Le Creuset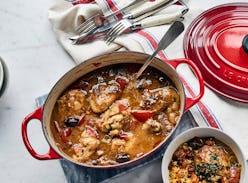 Understandably, while Bed Bath & Beyond's clearance sale is known for its incredible deals, it probably isn't the first place you'd think to look when shopping for luxury cookware. You probably don't expect to find coveted cookware brands like Le Creuset and Staub in any store's clearance section. Though, as you may have already guessed, both brands and more are, in fact, on clearance sale at Bed Bath & Beyond. Why and how are questions to be pondered after you purchase.
The markdowns are considerable, too. This 2.5-quart rectangular baking dish from Staub originally retailed for $49.99, but is on clearance for $24.99; since you're saving 50 percent, buy an additional one to keep on hand in case of emergencies (like unexpected dinner parties or last-minute bake sales). The pretty stoneware dish is available online in a monochromatic white or eye-catching bright blue.
Though not as discounted, this 8-quart Le Creuset stock pot on sale makes up for it by having six colors to choose from. The pot was originally $99.99 but is on clearance for $79.99 — snag it in Flame, a Le Creuset signature orange.
Although it's impossible to deny that Le Creuset and Staub's cheerfully bright cookware is immensely popular, you may prefer your pots and pans to have a simpler look. If so, check out Tramontina's stainless steel designs. The brand creates minimalist cookware with engaging silhouettes, like this 6-quart dutch oven from designer and architect Claudio Bellini's limited-edition Butterfly line.
"For the Butterfly line I sought and found new shapes, I combined form and function like the ingredients of a recipe, and I interpreted a lifestyle," reads a quote by Bellini from his website. "And I am proud to have created elegant objects which are also ideal for serving, standing out not only on the cooking range, but also directly at the table." Grab the regularly $79.99 Butterfly dutch oven on clearance at $55.99, or explore the other limited edition cookware pieces on sale from the line.
Colorful or classic stainless steel, you can decorate your kitchen however you please by shopping Bed Bath and Beyond's clearance section. Below, seven clearance cookware pieces that are as artistically-designed as they are functional.