These 6 Statement Boot Styles Will Take Your Winter Shoe Game To The Next Level
Claudio Lavenia/Getty Images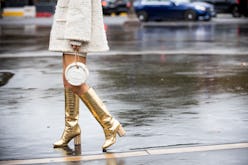 I've never been one to be subtle with my outfit choices. My mom still reminds me of my kindergarten class picture, where I stood out from my classmates wearing a pair of blue-framed sunglasses — inside. Fashion has always been a creative outlet for me, and I cater my style to my personality. For instance, on days where I'm feeling energetic, I'll throw a few contrasting prints into my look. In fact, my go-to outfit formula typically consists of *at least* one eye-catching piece. And once the cold weather hits, winter-appropriate statement boots are always in heavy rotation.
Though I find myself wearing boots year round (I avoid uncomfortable heels at all costs), in the winter I tend to splurge more on styles that will stand up to inclement weather. I'll admit half of my collection consists of almost-indiscernible black boots, but each season I like to throw in a new toe shape, color, or print. This year, the statement boot trend I'm loving is animal print. From zebra to snake, I'm inspired to style them in so many ways. However, they're not the only style currently in my shopping cart. If you're a bit more timid, I'd say to start out with a simple iteration, like a two-tone option or sculptural heel.
To instantly elevate any look, below find six different types of statement boots I'm itching to add to my winter shoe collection.
Animal Print
Over the past few seasons, animal print has taken the fashion world by storm, and my favorite way to wear the trend is via a pair of boots. One pair I've been head over heels for are these knee-high boots from Khaite. I first saw the shoe all over the streets during fashion month, and have been obsessed ever since I laid eyes on them. My go-to for styling the trend is a black slip skirt or pair of jeans styled with a chunky knit.
Embellished
From pearls to studs, designers are adding cool embellishments to their signature boots this season. Since I love to accessorize with jewelry, this is another way to add baubles and such. My take: opt for a luxe embellished boot for any dressy occasion you have marked on your calendar.
Two-Tone
I've always been a fan of color-blocking, so i'm all about the two-trend trend that emerged this year. Wandler's Isa Boot has been on my wishlist for awhile now, and 2020 might be the year I bite the bullet. Consider pairing a two-tone with a sleek trench coat and jeans for an easy, yet polished look.
Bold Colors
I'm not shy about adding bold colors to my wardrobe, so a vibrant boot is right up my alley. Unsurprisingly, I'm dreaming of wearing my bubblegum pink shoes with my favorite red leather separates. If you want something a bit more subtle, sport a monochromatic look, incorporating different shades of one color or make the shoe the star of your look by coupling it with neutral pieces.
Platforms
I'm always the shortest in group photos with my friends, as I'm usually wearing flat boots or sneakers. However, this season i'm dying to purchase a cool platform boot. The '70s-inspired shoe is a comfier option than a skinny stiletto, but will still give me some much needed height. Just crossing my fingers I don't trip and fall.
Funky Heels
If you aren't ready to fully commit to a statement boot, experiment with an intriguing heel. It still adds a bit of oomph to your footwear, but it's not overtly wild. For minimalists, consider a black Chelsea boot with a slight cut out in the heel, like the Alexander Wang pair above. On the other hand, if you're fully ready to embrace the fun look, turn to designer Yuul Yie who makes some of the most extravagant heels on the market.