6 Stunning Ponytails For Short Hair Inspired By Saoirse Ronan, Yara Shahidi, & More
Christopher Polk/Getty Images Entertainment/Getty Images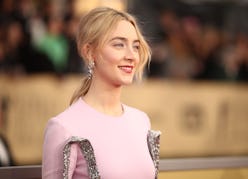 We've all been there: You leave the salon with a short new cut and everything feels right until the next day when you go to pull it back into a ponytail, then the inevitable regret sets in. Before you waste time trying to wish back your inches, though, remember the age-old saying, "where there's a will, there's a way." If you've got the will, these short-hair ponytails are the way.
It seems like the longer your hair is, the more creative you can get with your updos, but that isn't necessarily always true. Short-haired ladies have options, too — just take a look at bob-clad actors like Diane Kruger and Kate Bosworth mastering the tiny ponytail look on the red carpet.
Whether you're sporting a lob or an above-the-shoulder bob, don't rule out an updo just yet. These six celeb-inspired ponytails for short hair are about to add variety to your everyday look.
Sarah Paulson's Half Pony
Take American Horror Story veteran Sarah Paulson, for instance: When straightened, her hair only reaches just below her jawline, yet she still finds ways to pull it up. At Oct.'s ELLE Women in Hollywood Celebration, she wore the top half pulled back tightly into a tidy ponytail at her crown. The sleek half pony helped let her statement earrings shine.
Kate Bosworth's Bun-Ponytail Hybrid
In Dec., Kate Bosworth combined a ponytail with a bun in her unconventional updo. She parted her hair to the side and tied it taught at the nape of her neck. Then, on the last twist of the hair tie, she secured it in the tiniest loop with her ends spouting out the top — an elevated version of the lazy girl bun.
Yara Shahidi's Middle-Parted Pigtails
Yara Shahidi showed up to the 14th Annual Inspiration Awards in Los Angeles wearing a sleek take on pigtails. The actor parted her curls into two low ponytails, securing them closer to the back of her head for a more sophisticated approach.
Nina Dobrev's Bang-Clad Pony
The Vampire Diaries actor Nina Dobrev had a short bob and straight-across bangs when she pulled off the perfect low pony at the Only the Brave film premiere. Her sleek fringe gave the tight ponytail a shaggier, less formal look. Simply pull your bob back and tie it low, at the nape of your neck, letting your bangs lie flat on your forehead.
Diane Kruger's Ribbon-Wrapped Pony
Perhaps the simplest way to elevate a ponytail is to add an accessory. That's what Diane Kruger did during a Dior dinner at the Cannes Film Festival. The actor left it natural, seemingly, parting it in the middle and pulling her low-key waves back in a low pony held together with the cutest oversized satin bow.
Saoirse Ronan's Elevated Twist
Lady Bird's Saoirse Ronan pulled out all the stops on her red-carpet ponytail during the Screen Actors Guild Awards. She let a few wavy face-framing pieces hang and pulled the rest back in a low twist, maintaining a little volume. She even decorated the elegant twist with a shimmery metallic accessory, too.