Villanelle From 'Killing Eve' Is About To Be Your Cold-Weather Dressing Inspiration
BBC America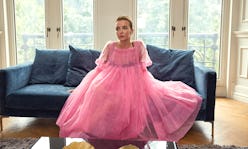 It's fitting that Jodie Comer plays a Russian assassin in BBC America's Killing Eve, since her character's style — for lack of a better word — kills. Of the many takeaways from the show's debut season included Comer's next-level outfits (think: patterned Dries van Noten suit separates, a satin embroidered Miu Miu bomber, and an iconic Molly Goddard dress). The one style tip you're about to take from Comer's Villanelle? How to wear boots with a dress this fall.
Killing Eve — based on Luke Jennings' book series, Codename Villanelle — tells the story of a MI5 security officer, Eve Polastri (played by Grey's Anatomy's Sandra Oh), who dreams of becoming a spy but winds up in a cat-and-mouse game with Villanelle (Comer). Fans fell fast and hard for Killing Eve, which has already been renewed for a second season.
Villanelle's wardrobe blurs the line between elegant and edgy in an effortless way. In one scene she's wearing a menswear-inspired white button-up and necktie, and in the next, she's in a Burberry dress. There's so much style inspiration packed into the show's eight episodes, but the one you need to incorporate into your wardrobe immediately is Villanelle's unexpected pairing of bright and frilly pieces with chunky black boots.
Of Villanelle's top fashion moments was her bubblegum-pink organza dress. There was something particularly alluring about the juxtaposition between Comer's dark character and the cheery Molly Goddard gown. The frothy, pink-tulle dress couldn't be more feminine, but Comer's look was toned down with edgy cut-out ankle boots by Balenciaga.
"I thought that would be great to use with the color and the mixture of the extremely feminine, almost to the slightly perverse point, with those boots, which are a good mix," Phoebe de Gaye, Killing Eve's costume designer, told Vogue of the look.
De Gaye assembled a similar boots-and-dress combo in a later episode, dressing Comer in a custom-dyed lace Burberry maxi and chunky combat boots. The baby-blue, whimsical dress paired (surprisingly) perfect with the bold, contrasting boots. De Gaye also created a slight variation on the trend, styling Comer in a bright-and-flowy Chloe top (complete with a necktie) with cut-off shorts and clunky biker boots.
As cold-weather season officially commences, try incorporating Villanelle's styling trick into your wardrobe. Pairing dresses with boots isn't the easiest of tasks — finding the perfect color, height, and material are all things to consider — but Villanelle's mismatched style is an easy solution.
Opt for frilly, feminine dresses and bulky combat boots for the ultimate hard-and-soft look. Don't be afraid to surpass your personal boundaries on feminine style, because it'll surely be balanced out by a pair of hardcore boots (read: take the opportunity to try out a style you wouldn't otherwise).
Ahead, shop the The Zoe Report's favorite Villanelle-approved combinations to experiment with this season.
Shop The Look