These Influencer-Approved Beauty Gifts Will Completely Surprise Anyone On Your List
Christie Tyler/Instagram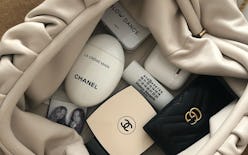 Influencers have a way of establishing cult followings for certain beauty products. It's simple: Marketing science aside, when you see something on your feed over and over, beautifully arranged and photographed, you very well may end up wanting it for yourself. Beauty fans can probably rattle off the viral makeup and skincare products of 2019 without thinking about it; which were helped guided towards fame by the selfies and shares of social media stars. And while you can shop for influencer-approved beauty gifts simply by adding these all to your cart and calling it a day — there's another way to go about it.
It just so happens that influencers also have the exceptional skill of sniffing out new indie favorites you've never heard of and under-the-radar gems from tried-and-true brands. That means that even though each of the six gifts below have been broadcasted to the world, they'll still be complete surprises for your lucky recipient once the holidays arrive. Even more tempting, this list ranges from $18 to $100; so there are presents for everyone on your list.
Below, six influencer-approved beauty buys to gift the fashion-forward makeup lover in your life. (Or, you know, add to your last-minute wish list.)
1. Chanel's luxe La Crème Main
Peer inside the bag of fashion blogger Christie Tyler — aka NYC Bambi — during the hustle and bustle of a busy fashion week, and you'll spot this luxe Chanel hand cream. "I'm a simple girl," she added on the Instagram post revealing her bag's contents. Marianna Hewitt, co-founder of skincare brand Summer Fridays, has shared a photo of the stylish lotion with her followers as well.
2. Flesh Beauty's everyday Hot Sauce Lip Gloss
Once in a blue moon, someone on your feed will drop the name of the exact lip they're wearing, and fans will be quick to grab it for themselves. Influencer and all-around creative Maria Alia went ahead and shared her entire summery makeup look on her account, step by step — though it did include this minimalist gloss from Flesh Beauty.
3. Le Labo Perfume — *To Go*
Gifting a Le Labo fragrance is a no brainer — and not exactly under the radar, either. Go the extra mile by wrapping up a travel-sized version of one of its perfumes; it shows you're considering the fact that your giftee very well may already own a full-sized bottle, but undoubtedly would love to wear it on the go.
4. Playa's vanity-worthy Ritual Hair Oil
It's hard to choose the best part of writer Sabina Socol's self-described corner: The enviable candle collection, cozy winter read, or the fan-favorite Playa hair oil. Oh, and the dried flower arrangements are in the running, too.
5. Selfie-inspiring Cheeky Cherry masks from Squish Beauty
It's easy to see why Squish Beauty's highly Instagrammable eye and cheek masks have ended up an influencer favorite. The dramatically large, cherry-shaped hydrogel masks are saturated with skin-moisturizing ingredients (and look so cute).
6. The chic Dior Balade Sauvage Body Cream
Like the Chanel hand cream, Dior's luxe Balade Sauvage Body Cream is for the beauty fan you already know has a well stocked collection, but still deserves to be pampered for the holidays.