The Throwback Jennifer Aniston Hairstyles Are Still Totally Relevant In 2020
Gregg DeGuire/Getty Images Entertainment/Getty Images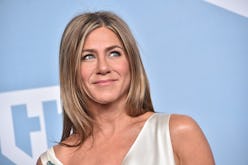 You'd be hard pressed to find someone in Hollywood with more influential hair than Jen Aniston, mother of The Rachel. Over the years (nay, decades), the 50-year-old has tried out almost every look in the book, from chic bobs to dreadlocks, and most of them wound up being the trend du jour. Admit it: You rocked a few of Jennifer Aniston's iconic hairstyles in your day, too.
If you've never brought a magazine clipping with Aniston's face on it to a salon, then you weren't a girl living in America during the '90s. Or the aughts. Or the '10s, for that matter, because that's how long the actor has been churning out hair trends like nobody's business.
2020 marks 30 years since the actor's small-screen debut (in a short-lived TV series called Molly) and since then, she has risen to the top of the TV ranks, made her way down at least a hundred red carpets, and become an all-around beauty sensation to boot.
It all started with a single hairstyle. The hairstyle that influenced every other hairstyle that came after it and is still a source of inspiration today, literal decades after it debuted.