This Easy Layering Trick WIll Transform Your Fall Style
Louis Vuitton Spring/Summer 2020. Photo: Shutterstock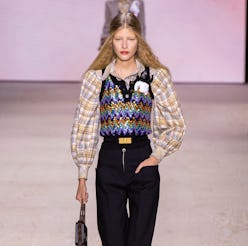 Believe it or not, trends are only part of what's new with fashion. While you have to wait six month to actually buy the runway pieces, the unique outfit formulas you spot at Louis Vuitton or Chanel is something you can embrace right now. The more immediate dose of inspiration is not about what items to wear, but how to wear them. These runway styling ideas are all thanks to the work of the stylists behind the scenes who translate new designs into functional and versatile ensembles for the everyday consumer and creative dresser. The six Spring/Summer 2020 tricks ahead are prime examples. They spark ideas for ways to wear classic silhouettes and, in many cases, items you already own. Best of all, there's no waiting for spring necessary.
For each of the following simple-to-replicate looks, there's at least one item that likely already lives in your closet. But, thanks to some sartorial creativity, the resulting ensemble is much more than the sum of its humble parts. Take for instance the denim-and-dress combination at Khaite that makes a puffy confection seem casual enough for the weekend. Otherwise, there's Victoria Beckham where the use of saturated colors look even more striking against neutral basics stylist Joe McKenna used as a backdrop. Whichever your preferred approach, each of the looks below are the product of an easy equation. Consider them next time your wardrobe feels a little uninspired.
Cropped Cardigan + Pinafore Dress + Lace-Up Boots
Pinafore dresses are pretty much made for all manners of layering. Button downs, and turtlenecks sit equally well underneath the sheath. But among the many creative styling ideas seen on the runway for Miu Miu Spring/Summer 2020, it's the use of cropped cardigans — buttoned a bit crookedly, at that — that offer a fresh take. Plus, when pulled off the shoulder, the layered look creates its own unique cold-shoulder silhouette.
High-Waist Trousers + Patterned Button Down + Clashing Vest
A plaid shirt and black, high-waist trousers are givens for most wardrobes. And yet at the Louis Vuitton show this past Paris Fashion Week, stylist Marie-Amélie Sauvé demonstrated a combination that felt far from obvious thanks to a quirky clash of shirt and sequin, chevron-striped sweater vest. Feel free to replicate with at other non-obvious pairings that may be hiding in your closet.
Wide-Leg Jeans + Party Dress
Perhaps a puffy-sleeved dress doesn't technically need more than a pair of heels to feel like a complete ensemble. But thanks to Khaite's latest runway, it became clear that a pair of cropped, kick-flare jeans is actually the unexpected missing piece to this playful yet pared back look.
Neutral Base + Clashing Colors To Layer
Whether your preferred set of basics are in a shade of black, brown, or ivory, take cues from the Victoria Beckham Spring/Summer 2020 show and create a base layer first. Instead of settling on this minimalist look (which you certainly can), clash your preferred bright colors by way of ruffled blouses, Mary Jane shoes, or any other statement combination that speaks to you.
Wide-Leg Pants + Cropped Turtleneck + Leather Trench
It's hard not to look sleek in a maxi-length leather jacket. And the runway for 3.1 Phillip Lim displayed a so-simple, so-effective way to style it. The combination of high-waist trousers and a cropped, high-neck sweater or shirt offer a relaxed backdrop to let a statement-making outer layer shine.
Oversized Polo + Maxi Skirt + Neckerchief
Lacoste is an expert at blending sporty pieces with classic ones. And for Spring/Summer 2020, one of the most appealing outfits to emulate came by way of a colorful polo shirt paired with elegant, maxi-length, pleated skirt. The combination works well not only because it's a bit unexpected, but also for its equal-parts balance of relaxed and refined.