6 Runway Outfit Tricks You Can Put Together In One Minute Flat
Courtesy of Rejina Pyo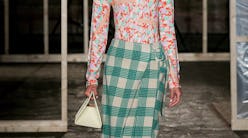 Regardless of how much weight you place on the fashion calendar, it's fair to say that at the end of all four major fashion weeks (New York, London, Milan, Paris), there's a collective sigh of relief. After a month of your Instagram feed and email inbox alike full of all things runway-related, the dust is beginning to settle. You're still sussing out the trends you want to wear and the shoes you'll invest in six months down the line, but take a beat before you focus entirely on the semi-distant future. There are actually plenty of runway outfit ideas from fall 2019 that you can road test right now (without having to spend a single penny — though you're entirely welcome to do that too).
The top Fall/Winter 2019 runways had plenty to glean from; trends to keep an eye out for in the months to come as well as new designers and models to watch. But with regards to the individual outfits that marched down the runway, there were several that stood out as particularly creative and inspiring. Each of these six ensembles employs simple tricks that can be translated to your own closet, or can be recreated with the latest spring styles, just in case you can't wait until the fall collections hit stores. Happy styling!
Best Of Both Worlds
Come spring, all you likely want to wear after months of dreary weather and an all-black uniform are fresh florals and cheery gingham. Rejina Pyo's Fall 2019 runway proves the two are not mutually exclusive; rather, team them up for an unexpectedly harmonious coupling. The takeaway: happy prints can and should be worn together this spring with reckless abandon.
Tie One On
You may already be privy to The Zoe Report team's affinity for the sweater-as-scarf trend, but did you know it is also a fantastic way to transition your wardrobe to spring? If you have a breezy dress or lightweight blouse you're itching to wear, but temperatures haven't thawed enough yet, follow Rosie Assoulin's lead and grab a sweater to knot around your neck. The result will look both effortless and sensible.
Time For Tailoring
Tommy Ton's runway collection at Devaux had everyone reaching for their most relaxed slacks and roomy button downs. One certain look also included a tailored vest, which might be the newest microtrend considering Ton's knack for spotting what's next. Get ahead of the curve and grab one in an oversize silhouette.
Collar Play
Victorian-inspired silhouettes and high necks are nothing new, but Tory Burch's ability to translate trends to real life gives a fresh perspective on the silhouette. If you're the type to default to a sweater and pants when you can't think of an outfit, simply style a ruffled neckline beneath to add va-va-volume. Throw on statement earrings and you're like new.
The New Party Uniform
If you dare, make your spring party look nod toward Miu Miu's Fall 2019 runway. Find a sheer dress in a candy color and layer a short slip underneath. The sweet pastel hue will help balance the fact that you're wearing something completely sheer and the end result will be delightfully eye-catching. To give it a fashion girl finish, skip the stilettos and try cute socks and flats, instead.
Bijoux Your Belt
Givenchy's Fall/Winter 2019 collection illustrates the effectiveness of cinching your waistline with a pretty, delicate belt. Emulate the accessory and snag a slim belt and a chain version and style the two together. Whether you're attaching the chain-links on the front and back or wearing them at the same time, the extra texture will feel like a step up from the ordinary and even garner a few how'd you do that?s.