15 Winter Outfit Ideas Straight From Copenhagen Fashion Week
Photo: Courtesy of Holzweiler.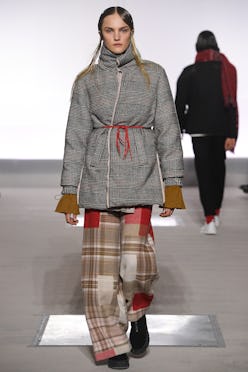 Come February, your winter outfits can already start to feel a bit redundant. And, they mean to tell you that you'll still have to wear heavy outerwear for at least another two months? Sigh. Fortunately, a couple marathon days of Copenhagen Fashion Week were brimming with outfit ideas, and the styling at many of the week's shows will have you taking notes on unexpected combinations, quirky tricks, and layered-up looks to try and put to use in these long, last weeks of winter.
You may be temped to start adding some of spring's new arrivals to your online shopping carts as they trickle into your favorite online retailers, but you may be better off working with what you've already got until the weather warms up (or at least get some gears turning on how to make those lust-worthy spring pieces work in freezing temps — yes, it is possible).
From new ways to wrap your blanket scarves to layering tricks that breathe new life into well-loved winter pieces, Copenhagen's runway shows proved that styling is yet another one of Scandinavia's strong-suits. And, knowing how trend-setting Danish brands tend to be (if Ganni is any indication), those in the US will be following these labels' lead, even well into next winter.
Holzweiler
A good-old shoelace can breathe new life into your usual puffer jacket, changing the silhouette and offering a tiny taste of color.
Stand
Try putting your leather skirts over some coordinating pants or leggings for a fresh take on winter-ready bottoms.
Munthe
The throwback, sweater-around-the-waist trick is back, and great for breaking up suiting separates in an unexpected way.
Ganni
Turns out a knit cardigan and a leather mini are a match made in heaven.
Stand
Finish off a coordinating set with bold, matching accessories.
Munthe
Toss a graphic tee over your sheer dresses for a punked-up, variation on layering.
Rodebjer
Make those spring dresses work for chilly nights by wearing them over sheer tops and thigh-high boots.
J. Lindeberg
Don't hesitate to take your gym outfit to the streets, because athleisure looks like this are all fair game. Get ready to add a bold pair of tall socks to your outfit rotation.
Hoffmann
Hoffman
Amp up the noticeability of a pared-back suit with coordinating plaid add-ons, like a duster coat and bucket hat.
Baum und Pferdgarten
Toss a sheer overlay on top of head-to-toe prints to make winter layering way more fun (but, perhaps consider adding a coat on top).
Roebjer
It's time to think out of the box with scarf styling; belted, it adds a lot more to the outfit than just wrapping it around your neck.
J. Lindberg
Ever thought to put your sweater over your puffer? Us either.
Cecile Bahnsen
It's settled: You'll be wearing all of your black dresses with black socks and sneakers from here on out.
Ganni
For a going-out look, try a boxy button-down under your strapless dresses.
Holzweiler
And, for one final scarf-tying tip, use a pin or brooch to hold your blanket scarves into a more ornate placement.