Thinking Of Going "Bronde"? Let These 6 Celebrity Hair Colors Inspire Your Next Look
Axelle/Bauer-Griffin/FilmMagic/Getty Images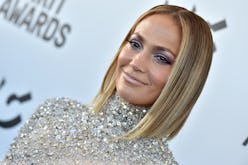 When it's not bright enough to be called blonde, but also not quite brunette, it's "bronde," a honey-colored mix of both. The Kardashians have ushered this middle-ground shade into the spotlight lately, but it was definitely a thing before 2020 (see: Gossip Girl-era Blake Lively). Ahead, six celebrity-inspired bronde ideas because this hair color trend is just beginning.
Like almost anything she wears or does these days, Kim Kardashian's latest caramel dye job has sparked a major beauty craze. The internet is obsessing over bronde hair more now than it ever did when Blake Lively's five-inch roots (which were never supposed to be a fashion statement, the actor later confessed) gave way to the term years ago.
Remember the so-called "tortoiseshell hair" trend from 2015? It's back, but this time with a bit of an upgrade. While there's still plenty of room for chunky highlights and patchy bits of blonde — just ask Khloe and her new streaky bob — cohesive honey-blonde is, hands down, the new it-color.
Between J. Lo's incongruous bob and Gigi Hadid's balayage mermaid waves, you should have no problem finding something to inspire your next trip to the salon with these celebrity-inspired bronde looks, ahead.