Follow These Black Beauty YouTubers For The Most Creative Makeup Tutorials
Emma McIntyre/Getty Images Entertainment/Getty Images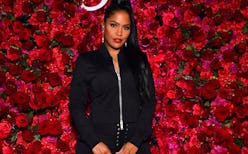 Back in the dawn of beauty vlogging, when self-taught social media stars first started making millions from eyeshadow tutorials and foundation reviews, the industry was dominated by white skin. But now, although the YouTube scale still tips in the favor of Euro-centric aesthetics, there are a host of Black beauty YouTubers to hold the industry accountable.
Jackie Aina has been representing people of color on YouTube for more than a decade now. Churning out a mixture of lighthearted how-tos and down-to-business PSAs about race, she blurs the line between makeup tutorialist and activist. In 2018, Aina was named the NAACP's first ever YouTube Creator of the Year, an award that now has countless contenders.
Like Aina, many beauty vloggers play two roles: to advocate and to create artist-level makeup looks while doing so. Between Alissa Ashley's recreations of iconic makeup looks and Ellarie's monochrome series, they have the creativity to sustain such hefty followings, too. So, whatever you're looking for — a conversation about diversity in the beauty industry or a creative step-by-step guide to the latest eyeliner trend — these YouTubers are worth subscribing to stat.