The Easy Mid-Day Habit That'll Help You Stay Healthy & Productive At Work
Grosescu Alberto Mihai/Shutterstock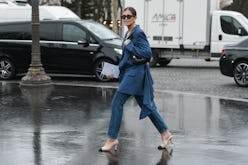 When you're busy balancing your work and personal lives, it's easy to let a few things fall by the wayside — and unfortunately, your health and self-care can often often be one of them. That said, as overwhelming as it may seem to try and stay active and healthy even when you're constantly plugging away in an office or dashing in and out of meetings all day, it can be done. And thanks to a few simple wellness work tips, it's actually a lot easier than you might think.
As a certified health coach and personal trainer, Rachael Finch has made a business out of helping others live their healthiest lives — and that includes overcoming the obstacles that a hectic work schedule might throw your way. Whether it's mastering meal prep or finding the best quickie workouts to squeeze in during your day, the Aussie model-turned-wellness-expert has figured out a few foolproof ways to not let your desk job (or any job, really) get the best of you, many of which are even included in her Body By Finch app.
If you've been feeling like your wellness has been compromised lately due to your work grind, help is here. Ahead, find five of Finch's no-fail ways of feeling good regardless of what the day throws at you.
‌Schedule Walking Meetings
Sticking with your work commitments doesn't have to mean staying still. "Whenever I have a heavy period of indoor computer work, I like to plan in-person walking meetings or get outside to make my phone calls to break up the day," Finch says. "Some of the world's most successful leaders are known for doing this with their colleagues and there's a great reason for it. It can make a huge difference on your creative inspiration and allow you to feel more relaxed with whomever it is you're meeting with. Conversation flows more freely and you're getting the added benefits of the physical movement, too." Make this trick even more helpful by investing in some hands-free accessories so you can be on-the-go with ease.
Swap Out Your Chair
Goodbye stiff office chair, hello fitness ball. "By making the switch you'll be optimizing your time sitting down by working on your core and overall stability," explains Finch. "The instability of the ball requires you to switch on your trunk muscles, increase strength and even improve posture. Don't forget to pack your flats, too, while you're seated, ladies!"
Take Breaks
Finch argues that it's crucial to break up extended working periods for both your physical and mental health. "Choosing to break up the time at your desk with structured breaks that include short walks or stretching has shown to have wonderful benefits on creativity, production, and focus," she says. "You could plan to work for a three- to four-hour block, then take a full hour away from work, walking in the fresh air, eating lunch and not thinking or talking about work. Alternatively, you could work in one-hour blocks and take a 10 to 15 minute break at the top of every hour. Find a rhythm that suits you best and stick to it to see the results. Pushing yourself too hard will only result in fatigue and overwhelm."
Pack Or Plan
If you think of your working meal options as either unhealthy takeout or sad desk lunches, think again. With a little planning ahead or some simple meal prep, you won't have to choose the lesser of two evils. "If I'm traveling I will always look ahead at nearby cafes or restaurants, and if there aren't any healthy options, I'll bring my own," explains Finch. "Don't get stuck eating something from the vending machine or opting for the fast food route. Be smart and think about what ingredients you need when you're in the store next."
Additionally, if you bringing your own lunch along, having a chic carrier might keep you inspired for healthy prepping. "It's worth investing in a good quality lunch box that keeps your food warm or cold," Finch adds.
Fill Up On The Good Stuff
Instead of being a slave to diet trends, Finch argues that simply trying to eat well-balanced meals at home will curb your cravings and keep you making healthy decisions during your work day. "Eating a beautifully-balanced meal within an hour of waking will keep your blood sugar levels in check and help prevent your body from entering the 'flight or fight' response mode, causing a ripple effect of even greater issues," Finch says. "The smoothies on my program are a huge hit with our ladies. A fave of mine is the salted caramel smoothie which includes banana, plant protein, macadamias, oats, almond milk, and vanilla!"