The Valentine's Day Nail Color You Never Considered (But Will Definitely Love)
côte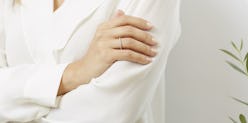 Disclaimer: Red polish for Valentine's Day isn't going anywhere. In fact, it'll probably always be the first color manicurists think to grab each Valentine's. But if this is your tenth consecutive holiday with the same significant other holding your hand — or red just isn't your color — you may be looking for alternative Valentine's Day nail colors that aren't the standard (albeit sensual) red.
If so, you're in luck. Below are five Valentine's Day nail color ideas that aren't red, but are just as pretty and on-theme. Since each idea is just a color, you can accent any of the shades with this season's most popular nail art trends; you get extra points if you tie in all five colors in a rose bouquet design.
The big day is less than a month away, so go ahead and order your favorite color — or, better yet, bring the swatches to your February manicure appointment. DIY or not, continue scrolling for five nail colors that will go with any Valentine's outfit you're planning.
Dove
Want to catch the eye of your turtle dove? A soft, dove gray nail polish is unexpected if you always go with bright reds and pinks, and perfect if you're known for having French manicures. The pale polish has the same refined vibe as a French manicure, too, except in an all-over color. The internet hasn't reached a consensus on if dove gray should have pink, blue, or purple undertones, but regardless, the subtly colorful neutral goes with everything.
Coffee
Why is red nail polish so popular? It could be the glamorous shade's warmth, or the fact that anyone can pull it off. For an alternative that hits both those marks, try a coffee nail color this Valentine's. Deep brown hues with warm undertones still seem bold and inviting. Up the neutral more by picking a coffee color from the three below that contrasts your skin tone.
Deep Plum
A deep, dark plum — so rich it may appear black in certain lighting — will give your Valentine's Day outfit a touch of drama. Deep plum works with leather jackets and heels, and if you plan on wearing a romantic, flowing dress; the midnight shade balances out lighter, airier outfits, and adds an air of mystery to your ensemble.
Pearl
Think of pearlescent nail polish as an elevated glitter. Like a sparkly New Year's Eve manicure puts you in the party mood, subtly shiny nails will help you get into the date night spirit. Though pretty, the light metallic won't turn any heads in the office the following workday, either — which may be exactly what you're looking for, since Valentine's Day is on a Thursday this year.
Barely-There Blush
Alright, it may feel wrong to not have some sort of rose-colored manicure on Valentine's. Instead of red or even a dark pink, try a barely-there blush shade. Additionally, light pink shades work especially well if you're planning on wearing a red dress or lipstick, since pink and red go hand-in-hand.