Date-Night Nail Art That Puts Classic Red Manicures To Shame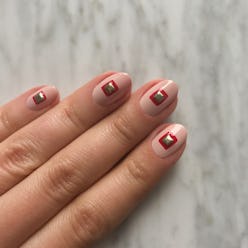 Believe it or not, your nails say a lot about you—and since they're one of the first things people notice, your manicure should accurately represent who you are. We've teamed up with cruelty-free nail polish brand Maxus on five nail-art looks perfect for the most romantic day of the year. Click through for fun, creative ideas like negative space manicures and fun shapes to play up your unique personality this Valentine's Day—all of these are good enough to land you a second date. Sure, we love a classic red, but sometimes you need a little something to stand out from the crowd.
Trapped In A Box
If your go-to shade is a pale pink or subtle nude, try adding a graphic focal point to the center of each nail. As always, start with a base coat, then follow with two coats of your favorite neutral polish and let them dry completely. Use a striping brush and red polish to draw a square in the center of every nail, then fill it in. Adhering with a drop of your base coat, carefully place a gold stud in the center of every square. Finish with a layer of topcoat.
To The Moon And Back
There's nothing sexier than a dark red polish that's almost black, and pairing it with a soft nude keeps it ladylike. After your base coat, apply two coats of a light nude polish. Draw the half moon outline with the deeper shade, and fill in the space above the moon to the tips of the nails. Allow the polish to dry completely (to avoid streaks) before sealing with a topcoat.
Three's A Crowd
If you love a classic red manicure but prefer to step it up from time to time, a simple-yet-impactful design along the cuticles is a fresh and easy update. After applying the red, use a dotting tool and a light nude polish to create three dots along the cuticle. Let your masterpiece dry completely before applying a topcoat.
Show Some Skin
Going au naturel takes on a new meaning when you adopt the negative space trend. Apply a thin base coat to create a smooth canvas, then use a striping brush and a bright red polish to draw an inverted triangle shape. Fill in the rest of the nail to the tip with the red polish, and adhere a gold bead to the center. Finish with a topcoat.
It's French
The ladylike French manicure has never looked so modern. Apply a strengthening polish as a base coat to keep nails looking and feeling healthy. Use a striping brush and a deep shade of red to create a thin French tip on every nail. Apply a thin base coat and, before it dries, add three black beads on the center of every nail. Seal it all in with a topcoat.