How To Straighten Hair Without Completely Ruining It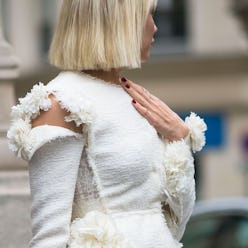 Sometimes we love nothing more than perfectly pin-straight hair á la Jane Birkin, but it's no secret that comes at a cost. Although we have successfully upgraded from an actual iron (ask your mom, she likely did it at least once in her youth) to top-of-the-line hair straighteners, we're still doing undeniable damage to our tresses. Get our tips for achieving stick-straight hair without frying it to the point of no return.
We're Getting Straight To The Point
Photo: Adam Katz Sinding
First Things First
The decisions you make before you even run a straightener through your hair are the ones that can save you from the most damage.
Tip: Always use a heat protectant before any kind of heat styling.
Too Hot For Your Own Good
Hotter is not always better, at least when it comes to your tresses.
Tip: Your straightener does not need to be set at 400 degrees to give you the look you want. You can still achieve pin-straight hair using only half the heat, which will keep you from completely frying your locks.
Do Not Repeat
If you thought flattening your hair was a fairly straightforward process, you're wrong. Make sure what you're doing isn't causing long-term harm.
Tip: Going over and over (and over) the same section with your straightener is a no-no. One solid pass through each section makes hair straight without killing it.
The Best Result
Ok, so now your hair is straight, but does it just look limp?
Tip: Add some body to your locks by using the straightener to pull up at the roots while slightly flipping ends inward.