14 Delicious Tequila Drinks To Make Tonight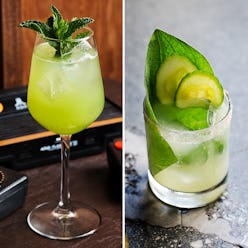 When it comes to the spirit of the moment, L.A.'s hottest bartenders are all about agave. Whether it's tequila blanco, reposado, or even a smoky mezcal these innovative agave cocktails are all about moving past the margarita and taking things up a notch to create a sophisticated, modern, and delicious tequila creation. So get your shaker and get ready to enjoy all the boozy goodness that L.A.'s best bartenders have to offer from the comfort of your home.
Cinco De Mayo, Here We Come
Photos: Courtesy
Bestia, Conejo Blanco
A new addition to Bestia's cocktail list, this tasty cocktail by bar director Iluggy Recinos gets a welcome vegetal hit from yellow chartreuse and freshly pressed white carrot and celery juices. Recinos recommends hitting up your local farmers' market for the highest quality ingredients and making your own veggie juice for the freshest version of this sip.
Ingredients:
1 1/2 oz Mezcal (such as VIDA)
3/4 oz Lime Juice
1/4 oz celery root juice
1/2 oz white carrot juice
1/2 oz yellow chartreuse
2 drops of salt solution
a few drops of chilli oil
Mix all ingredients together, strain, then finish off with a few drops of chilli oil on top. Serve in a coup.
Petty Cash, Farmer's Daughter
Sweet muddled strawberries and bright mandarin orange juice gives this cocktail from Petty Cash just the right level of subtle citrusy sweetness to stand up to the smokiness of the mezcal. Creators Julian cox and Hilary Chadwick suggest adding a few dashes of chipotle tincture for those die-hard home mixologists out there, then garnish, sit back, and enjoy.
Ingredients:
3 medium strawberries, muddled (preferably from the farmer's market)
1 oz fresh squeezed lime juice
5 oz fresh squeezed mandarin juice (preferably from the farmer's market)
.75 oz simple syrup
5 oz. 100% Espadin Mezcal such as El Silencio
Optional 3 dashes chipotle tincture
Shake and fine strain over fresh ice. Garnish with a lime wedge or a strawberry slice.
Fig & Olive, Sweet Red Pepper
Fig & Olive's beverage director, Mitchell Malnati confesses this aperol laced, tequila, bell pepper concoction is one of the best from their cocktail list: "One of my favorites. A little sweet, a little spicy... but still very refreshing." AKA everything you could possibly want from your cocktail. Check!
Ingredients:
2 small pieces of red bell pepper and strawberry muddled
1/2 oz passion fruit syrup
3/4 oz lime juice
1/2 oz aperol
1 3/4 oz tequila
1 dash Jamaican Jerk Bitters
Garnish with a piece of red bell pepper and serve in a martini glass.
Gracias Madre, Mero Mero
This popular West Hollywood watering hole is no stranger to elevated tequila cocktails, so if you're in the mood for something with a flavour profile complex (and delicious) enough to make you feel like a pro-bartender at home try your hand at Jason Eisner's Mero Mero. But feel free to have fun and cheat, if you don't have the time to make your own liquors, Eisner's substitution suggestions work just as well.
Ingredients:
1 oz Mezcal Espadin
.5 oz Tequila Reposado
.5 oz Homemade Artichoke Liquor (You can use Cynar)
.5 oz Homemade Cherry Liqueur (You can use Luxardo)
.5 oz Punt e Mes
2 dashes Orange Bitters
Add all ingredients to a crystal mixing glass. Add ice and stir. Strain into a single rocks glass. Add one large rock. For garnish, cut a swath of orange peel. Flambé and express burnt oil over the top of the cocktail.
Love and Salt, The OG
Manhattan beach's Love and Salt bolsters their mezcal laden cocktail with a hit of Limoncello and Luxardo maraschino for a divinely boozy Italian-Californian sip and we couldn't be any happier about it. Polish off a coupe, start mixing, and you'll feel like an OG mixologist in no time. Sorry, we had to!
Ingredients:
3/4 lime juice
2 dashes jerry Thomas bitters
1/2 oz Limoncello
1/2, Luxardo marsachino
2 oz mezcal
Orange peel
Salt, sugar
Prepare the coupe glass. Run orange peel along the rim of the glass. Dip into a mixture of salt/sugar.
Combine lime juice, bitters, limoncello, luxardo maraschino, and mezcal in a cocktail shaker. Add ice, and shake, then strain into the prepared coupe glass. Garnish with the peel.
Harlowe, Swipe Right
This busy speak-easy style bar is all about the re-imagining of something classic in a different light and their "Swipe Right" cocktail is no exception. A play off a chartreuse swizzle, Chris Amirault combines Avion Blanco, Green Charteuse, Ancho Reyes, lime, pineapple, and falerum. It doesn't get any better than that, that is, until it's topped with a bright colored parasol.
Ingredients:
.75 oz Avion Blanco Tequila
.75 oz Green Chartreuse
.5 oz velvet Falernum
.25 oz Ancho Reyes
.5 oz fresh lime juice
1 oz fresh pineapple juice
Swizzle on crushed ice and garnish with grated cinnamon and a colorful parasol.
Birch
Silver tequila and sherry are the stars of this creative cocktail from Hollywood's Birch. With strawberry ale, red verjus, and rosewater, mastering this sophisticated cocktail will definitely bring you up to pro status.
Ingredients:
1 1/2 oz silver tequila
3/4 oz amontillado sherry
3/4 oz red verjus
1/2 oz lime juice
3/4 oz simple
3 dashes scrappys firewater bitters
1/8 oz Sadaf rosewater
1 oz timmermans strawberry lambic ale
Add everything to tin with 5 ice cubes and shake hard for 5 seconds. Strain into chilled highball glass and top with lambic ale, garnish with strawberry slice and rose geranium leaf.
Sotto, The Other Margarita
This "margarita" cocktail embraces true Italian style by using tequila to call to mind flavors from the other kind of margarita, pizza. Get your word play on and whip up a batch of this delicious amaro and basil laced drink, you'll be glad you did.
Ingredients:
2 large basil leaves
3/4 lime juice
1/2 orange juice
3/4 Amaro Nonino
3/4 Amaro Abano
3/4 Espolon Blanco Tequila
Orange Peel
Combine ingredients, serve in coup, and garnish with orange peel.
Break Room 86, Ecto Cooler
The latest addition to the line hotel, Break Room 86's "Ecto Cooler" is a cucumber tequila cooler so refreshing that you'll want to be sipping this baby all through the warmer months.
Ingredients:
1 oz Altos Tequila
1 oz Sage infused Noilly Pratt X-Dry Vermouth
.5 oz fresh lime juice
5 oz cucumber syrup*
dash of celery bitters
pinch of maldon smoked salt
mint sprig for garnish
* to make cucumber syrup: juice cucumbers and combine equal parts cucumber juice to simple syrup.
Combine all ingredients in a tin and add 2 cubes of ice. Shake until ice is dissolved and pour over fresh ice in glass. Garnish with fresh mint sprig.
Butcher's and Barbers, Gold Hat
Reposado, raspberries and clinatro all mingle together perfectly in Butcher's and Barber's fresh, tequila laced offering. Don't have cilantro blossoms? No worries, this baby tastes just as good without them.
Ingredients:
5 oz Altos Reposado tequila
1 oz lime
3/4 oz cilantro-infused Velvet Falernum
1/2 oz Giffard pamplemousse
2 raspberries (muddled)
cilantro blossom garnish
Shake and fine strain over large cubes into a footed sour glass. Garnish with Cilantro Blossoms and straw.
B.S. Taqueria, Hoja Santa
Shrimp salt on a cocktail? Absolutely. This subtle cucumber, reposado blanco mix from newly opened B.S. Taqueria is a drink well worth mastering.
Ingredients:
6 lime pieces (each piece 1/16 of lime)
2 cucumber slices
Bottom half of Hoja Santa leaf, torn into pieces
Muddle all above thoroughly with 0.5 oz agave nectar
Add 1.75 oz Reposado Blanco Tequila
Add a pinch of Shrimp salt
Shake all contents. Strain into a shrimp salt-rimmed rocks glass over ice. Garnished with the top half of Hoja Santa leaf and two long cucumber slices (place in the glass first, then add ice).
The Eveleigh, Little Mexico
Kiowa Bryan's play on the Manhattan from the Eveleigh's newly released cocktail book is the delicious take on the classic you've been waiting for. Enjoy!
Ingredients:
2 oz Reposado Tequila (De Los Angeles)
5 Cynar
75 oz Carpano Antica Formula Sweet Vermouth
1 dash chocolate-chili bittes
Stir, strain and pour into a coup. Garnish with a grapefruit twist.
Terrine, Beverly Fix
When it comes to mezcal cocktails, Terrine bar man, Ryan Wainwright has just the fix for you, literally. The Beverly Fix with cold pressed pineapple juice, oregat, and Serrano. Tip for making this at home? You can find oregat at most high end liquor stores and substitute a slice of Serrano pepper for the tincture and muddle.
Ingredients:
2 oz El Silencio Espadin Mezcal
¾ oz cold pressed pineapple juice
¾ oz fresh squeezed lime juice
¾ oz house made orgeat
¼ tsp Serrano tincture
The Hudson, Hit and Run
The Hudson's Hit and Run cocktail, a tart and sweet passion fruit and Serrano pepper infused tequila cocktail makes for drink as easily replicable as it is tasty. Cheers!
Ingredients:
2 oz Milagro Tequila, House Infused with Serrano Peppers to taste*
.5 oz passion fruit puree
.5 oz fresh lime juice
.5 oz agave syrup
Milagro Tequila can be infused over the course of several hours according to desired taste and heat.
*alternative option: sliced Serrano can also be muddled directly into a glass.
Mix all ingredients vigorously in a large shaker over ice, strain and serve in a 10 oz bucket/lowball glass with a large ice cube, lime wheel garnish and no straw. Meant to be cool and spicy with a large bite at the first sip and then sweet and peppery until it's finish.
Faith and Flower, Jalisco Cut
The Jalisco's Cut is a bright, summer time cocktail with some heat. But if you're worried about the spice level, you can relax, the heat within the spirit is cooled down by muddling slices of English Cucumbers and shaking it vigorously with some fresh citrus and some raw sugar to balance it all out, perfectly.
Ingredients:
5 Chili Infused Avion Blanco
.75 lime
.75 simple syrup
3 cucumber slices
Pour all ingredients into a cocktail shaker, shake vigorously and strain into a tumbler. Garnish with a toothpick speared through a cucumber slice.