The Easiest Makeup Artist-Approved Trick To Winged Liner, Revealed
Khalea Underwood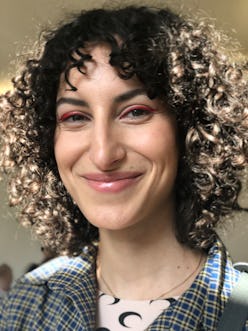 Winged eyeliner never goes out of style. Red lipstick is just as timeless. So what happens when the two are combined? Magic, is what. At Guy Laroche Fall/Winter 2019 in Paris, lead makeup artist Kabuki gave each model a delicate red liner look created with liquid lipstick — and employed a an easy winged eyeliner trick so easy that even the most junior of beginners can try, too.
"I got an email that had some makeup references on them, but no explanation behind them," Kabuki tells me backstage at the Hôtel Salomon de Rothschild. "It wasn't until I arrived at the test that I saw the collection, which included black marble print — really graphic. And the last outfit is this bright red, which is a total contrast from the print. So I threw away the references they gave me for the makeup and thought an eyeliner in red would give me what a red lip would give, in that instance: something classic."
Plus, red is a shade that suits "every diverse face" in the show, he explains. "It would have that more modern, minimal look than a traditional red lip would give you. Because the collection is very strong, I thought something simple would be more effective than something with a lot of elements to it," he notes.
Instead of a traditional eyeliner or an eyeshadow, Kabuki picked MAC's Retro Matte in Fashion Legacy, which has more of an orange base, because of the texture. It goes on very smoothly, he notes, and when it dries, it stays put. Plus, with lipsticks, there's a wider variety of reds — which means that there's a match for everyone.
To apply the liner, Kabuki used a MAC liner brush to paint the lipstick on, using the back of his hand as a palette. You can feel when the brush is clean and flexible that way, he says, as you never want to use the brush once the product feels dry on the bristles. After the wing was painted on, the red looked especially crisp against the "marble finish" of the skin, amplified by MAC Cosmetics Cream Colour Base in Pearl on the cheekbones and high points of the face, and a bit of nude-finish lip pigment.
If you want a sharp wing, Kabuki's trick is all in the positioning of your head. "Raise your chin and look down right into the lash beds," he instructs. "You get that beautiful, delicate tapering line." He begins by giving himself an outside marker first, where he wants the wing to be... never with the eyes closed. "When I do liner with wing, I plan it out with the eyes open so I know where it's going to end. When someone's eyes are closed, you don't know what it will look like once it's open. Then, I fill in the rest, and it's very straightforward." Regarding the placement of the wing, it varies depending on your face — but the most important part, he says, is to outline before you go in with your liner horizontally. Red lipstick not required.