I'm Spotting So Many New York It-Girls Wearing This One Key Winter Staple
Raymond Hall/GC Images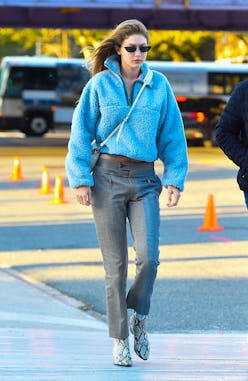 Fleece jackets have long served as the comfortable, cozy outwear of choice for a certain hiking-obsessed portion of the population. Then, post-Y2K, the cold-weather staple became a uniform associated with Silicon Valley's hottest startups (bonus points if yours included a company logo). But as of late, this practical piece has crossed over into the realm of high-fashion, with the fleece jacket trend being the next must-wear of winter 2018.
Personally, I've owned one form of fleece or another for well over a decade. In high school, I owned a handful of North Face jackets I simply rotated between for school each day. Come college, a Patagonia pullover was the go-to holiday gift in my family. Today, while I've long parted ways with my first fleeces, it's not unusual to see me on the weekends in an updated version by Outdoor Voices or Sandy Liang. And, I'm not the only New York resident whose made this a winter must-wear, while models like Gigi Hadid and Paloma Elsesser may be smack-dab in the center of Manhattan, they're still breaking out this cozy hiking staple too.
"Fleece is nostalgic," says Outdoor Voices founder Ty Haney via email. "Everyone's putting their own spin on what they think a modern take on a fleece should look like." For OV, that meant using recycled wool, and reimagining a classic silhouette with unexpected details. "The colors were meant to replicate those of the sunset," she explains. "We were super thoughtful about the details. Everything from the hidden pocket to the speckled snaps were intentionally developed and add uniqueness that I've never seen before."
"I really didn't like wearing them when I was younger because my mom sort of forced me to wear these hand-me-down fleeces," says designer Sandy Liang, whose downtown-cool clothing collections have prominently featured a fleece jacket for the last few years. "When I wanted to wear the new Gap Kids stuff with rhinestones and puppies and things like that. Now, the fleeces have become a nostalgic thing for me and when I design them I think about being a kid again, which makes me happy."
While Liang can't pinpoint any one thing that jumpstarted the current prevalence of the cozy coat, for her own line, it's always been about a connection to her past and sense of nostalgia. "When I first did my fleece for SS17 it was very clearly just my fun leopard version of a classic North Face or Patagonia Fleece, which I thought was funny," she explains. "I certainly did not invent fleeces and I didn't really think it would catch on as a trend."
Now, shop three takes on this winter must-wear — all according to how you'd classify your personal style. Whether you want a fashion-forward take or you'd rather stick to the laid-back classics, guaranteed there's a fleece out there for you.
For The Trendsetter
If you want to try a fashion-forward take on this cozy jacket, look for styles with unique sartorial details. Bright colors, unexpected hardware details, and sharp tailoring set these styles apart as the new class of cool outwear. While they're still functional enough to count as sportswear, let's be honest, they're meant to be worn in a trendy way, say with a maxi dress and leather jacket.
For The Sporty-Chic Dresser
If you're looking for something warm to wear that falls in-between trendy and purely practical, you can find a surprisingly robust selection of cool styles courtesy of established sportswear and ready-to-wear brands alike. The key with the middle-grounders is that they're easy to transition. Sure, you could style them with jeans and ankle boots, but its just as likely you'll throw one over your gym outfit.
For The True Classic
If you're one to stick to tried and true pieces, buying the same styles over and over again, then these are the fleeces for you. Courtesy of the classic outerwear brands like Patagonia and The North Face, you're just as likely to see yourself in these as your mom, dad, or even grandparents. Hey, why mess with the originals?