5 Celebrity-Inspired Halloween Costume Ideas TZR Editors Want To Try
Sunset Boulevard/Corbis via Getty Images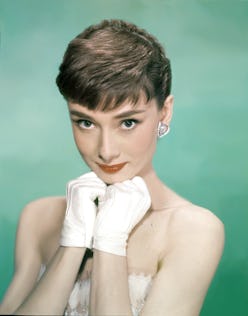 Fun fact about me: I was strictly forbidden from celebrating, talking about, and essentially even thinking about Halloween for years. My family was strict (hi, Mom), and wasn't crazy about the spooky overtones of the holiday. By the time I left the nest, I didn't really care that much about Halloween — even though there were plenty of dress-up parties and haunted bar crawls near my college campus. Even to this day, I'd rather stay in and watch the Haunting of Hill House rather than grab a pumpkin-flavored drink somewhere... but, if I *have* to go out, I'll likely opt for a celebrity-inspired Halloween costume.
Call me unoriginal or uninspired, but most of my day consists of looking at celebrities, anyway, so it takes the guesswork out of the equation. But moreover, it's laughably easy to copy a celebrity beauty look or hairstyle with the help of one good hero product. So with that in mind, I asked my Zoe Report team members about the celebrity looks they'd like to copy as well. See our picks ahead... and if you're opting to go as Avril Lavigne, you'd better grab some heavy-duty makeup wipes to get all your eyeliner off.
Avril Lavigne's "Sk8er Boi" Era
"This year, I plan on channeling my angsty side by going full-on Avril. Other than the obligatory camouflage pant (accessorized with a wallet chain, obviously), recreating Avril's aesthetic requires the perfect early-aughts hair and makeup. Obviously, I'll be laying on a super-thick smoky eye and combing my hair into the sleekest of middle parts for the full effect." — Ruby Buddemeyer, Associate Celebrity Editor
Aubrey Hepburn in Sabrina
"I've always loved Audrey Hepburn's shiny pixie cut in Sabrina. It's incredibly chic and so simple, which is perfect for me because I never like wearing hairstyles or makeup that's over the top." — Anna Buckman, Shopping News Editor
Phoebe Philo's Céline 2018 Models
"The fashion world's appreciation of Phoebe Philo runs deep, and though she may not be at the helm of Céline anymore (RIP), her style imitable style is the pinnacle of chic. Instead of dressing like a Céline stan for Halloween (which, generally, is what I aim for on the daily), I'm going to dress up as Philo herself by wearing a boxy navy turtleneck, loose-fitting black slacks, crisp white sneakers — and will finish my look off with her signature devil-may-care hair tuck.
"For this look, I'd recommend using some texturizing powder, then I'd finish it off with some gloss spray for my mid-lengths and ends." — Lauren Caruso, Managing Editor
Gwyneth Paltrow in The Royal Tenenbaums
"Margot Tenenbaum's uniform is my ultimate low-maintenance costume. Her blunt chop and barrette feel especially modern, and a severe sweep of eyeliner is all this look takes to pull this look off. Every good Wes Anderson fan will know exactly who you're supposed to be." — Aemilia Madden, Senior Fashion Editor
Missy Elliott
"Missy Elliott's music was far too explicit for my middle school ears, but that didn't stop me from rhyming along to every word of Supa Dupa Fly, and cutting up garbage bags to recreate the above. I think I'll probably leave the box of Hefty at home this Halloween, but I wouldn't mind trying out her finger waves — held in place with freeze spritz, of course." — Khalea Underwood, Beauty Editor