The Home Organization Hack That'll Start Your Year Off Right
Photographee.eu/Shutterstock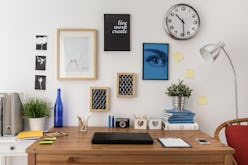 If you've ever looked around at your less-than-tidy home and found it to be an ever present source of stress, know that you're not alone. Considering how busy most people's lives are, it's understandable how things can easily get out of hand. However, there's no time like the present to make a change and with the start of a new year just days away, it's a great time to get your space in fully functioning order, thanks to some expert-approved home organization tips.
Whether it's your closet, your makeup station, your kitchen, or any other space that needs a little sorting out and sprucing up, making it one of your resolutions to implement some home organizational practices should help you enter 2019 on the right foot. As founder and president of A Clear Path, a professional organizing and productivity company, Regina Lark had learned a ton of tips and tricks to help her clients get not just their homes, but their lives in order, and she agrees that the beginning of a new year is a great time to start.
"The word 'new' in New Year says a lot about how we relate to beginning of the year," Lark explains. "It's a time for making goals, a firm resolve to do things better or differently over the next 365 days." And she recognizes that the main thing stopping people from having a more clear, clean, and functional space is a tendency to hold on. "We generally can't get organized if we have more stuff than will fit into the space we have — hence the reason people get the dreaded storage unit," she adds. "We generally hold on to a lot of stuff we think we may need someday but we are clueless about what someday has to look like in order for the thing to be use."
That said, the key to getting a clutter-free home where finding what you need is an easy, stress-free process might be a lot simpler than you think. If you're ready for a total overhaul, it may benefit you to call in professionals like Lark, but if you want to go for a DIY approach to getting organized, she's offering up four tips you can start implementing ASAP.
Clear Out The Clutter
It seems obvious, but chances are that you've got a lot more junk to lose than you think. "De-clutter your space of everything you no longer need, value, use, or desire," suggests Lark. It's good to have a visual goal in mind when you're sorting through stuff to get rid of, and imagining how you'll want your space to function is a smart place to start. As she says, "A lot of people feel they are organized when then can easily retrieve what they want to use and return it to its home just as easily."
Go Digital
Paper-free might not be a realistic goal for everyone but by doing bill paying and other paperwork online, you can help keep your desk (and other places) less cluttered. "Think about what it would take to go paper-light," Lark recommends. "If you can staunch the flow of paper you'll feel less cluttered and a bit more in control of your space."
Retrain Your Brain
Good organizational habits come with practice. If you've been living with clutter for a while, you're going to have to change the way you think first and foremost. "I encourage clients to see if they can understand better why it's so hard to get and stay organized," Lark says. "Honestly, it's a brain thing — some of us are hard-wired to be lousy at time management, for example, and if you're lousy at time management then you're not putting things away when you bring them home, and if they aren't put away when you get home, they pile up."
For an easy example of a way to retrain your brain, start forming a habit like "putting your keys, chargers, purse/wallet in one place every single day so you don't have to hunt for each item in the morning," as Lark suggests.
Make It Clear
Always rummaging around for things and creating a mess in the process? The solution is clear — literally. "Put things in clear bins and containers with lids, and label everything," offers Lark. "It's so much easier to get to your stuff if you can see what's available to you."