Genius Ikea Hacks For Organizing Your Makeup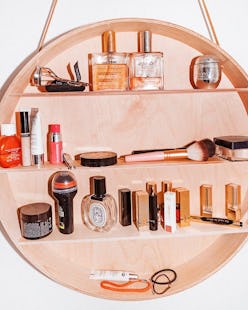 Whether you have a Pinterest-worthy collection or you're a minimalist who surrounds yourself with only the essentials, keeping your makeup stash organized is the key to streamlining your beauty routine (and quite possibly your life). So to make sure you never have to settle for a less-than-perfect lipstick shade all because you couldn't find your favorite in a cluttered vanity drawer, we're rounding up the best (and prettiest) storage ideas for you to copy. Ahead, the inspiration and Ikea shopping list you need to make your makeup arsenal neat and easy to navigate.
Convert your ordinary, run-of-the-mill spice rack to something you'll actually use. Hang a few on the wall to hold everything from makeup brushes to lipsticks or even your favorite skincare and nail polishes. The best part is they're not too bulky and fit literally anywhere.
Shop The Product
Keeping items like your makeup brushes, lip liners and eyeliners in pretty cups and clear containers not only keep your most-used items organized, but at an arms reach. Store brushes by size, color, or brand and never misplace another item again.
Shop The Product
Perfect for the beauty junkie who needs to maximize her small space, the floating vanity allows for just the right amount of storage and workspace, without eating up valuable real estate. Hang a single shelf or opt for one the has a built-in drawer to neatly tuck away your essentials.
Shop The Product
Who said bookcases can only be used for books? Certainly not a beauty junkie. We love using tall shelving to display and store our makeup collections. Opt for a modern glass bookcase or customize a wooden one with marble-printed contact paper.
Shop The Product
All you really need is a good mirror and better lighting. If you're looking to downsize even more, opt for a single mirror that has a shelf attached directly to it. Set up your every-day products and hang it by a window. You'll always look polished and you won't miss the clutter.
Shop The Product
A reflective tray does more than add some sparkle and glamour to your space, it also serves as a catchall for all your go-to products. Load it up with your prettiest makeup and get ready for the compliments to roll in.
Shop The Product
If you prefer not to put your makeup on display, camouflage your stash by storing it in secret containers and adding them to a cube storage shelf. Customize your space to convert for multiple activities and display your favorite decorative items.
Shop The Products
Ikea is known among beauty junkies for their Alex drawers, a series of makeup-friendly storage options. Ranging from tall, deep drawers, perfect for taller items, to shorter ones with shallow spaces for nail polishes and lipsticks, this option is a crowd favorite for those with large collections.
Shop The Product
Now that you have your drawers, you're going to need a way to keep all your favorite products in place. Opt for short boxes and dividers to keep your products organized at all times.
Shop The Product