The "Status Symbol" Jeans That Should Be On Your 2019 Shopping List
Shutterstock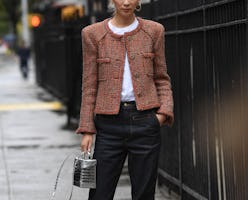 You've had your pick of a sweeping range of denim trends over the last few years. There was reworked denim à la Vetements, dangerously low-slung jeans, there were crop flares, wide legs, skinnies, baggy — long story short, no matter how wild you wanted to go, there was a pair of pants for you. Now, as you look onward to the new year, you may be wondering what the next big jean style will be. Though the classics will inevitably remain put, there's one thing topping The Zoe Report fashion team's predictive shopping list: the wide cuff jeans trend. It's easy to wear, but feels different enough to please sartorial trendsetters. But since any predicting is better done with the added input of an expert, this is where bringing another voice into the conversation is key.
"The exaggerated cuff, the raw look of the denim and the workwear styling of the new wide cuff jeans are all big nods to the roots of denim," explains Andrew Olah, the CEO of textile company Olah Inc. and also the co-founder of Denim Days, a festival held in both New York and Nashville. "Cuffing denim has its roots in utility. When denim was first introduced in 1873, pre-shrunk fabrics were not yet a thing so jeans and overalls were sold long and consumers were expected to shrink them to fit or cuff them," Olah continues. "Today, denim heads tend to cuff their jeans to show off the selvage of their denim as a status symbol. It's a wink to other denim heads who know to glance at ankles."
On the personal style front, there has also been a slew of influencers, editors, and fashion insiders wearing this statement-making trend, which typically means that you can expect that a tidal wave of options is about to come in full force. Below you'll find a roundup of inspiring outfits featuring wide-cuff jeans and an edit of them for you to shop and wear all 2019 long.
A preppy boxy coat looks unexpected and quite cool with a pair of wide-cuff jeans and square-toe black boots.
Your next party look has been decided. Play with proportions and tuck a slim animal-print top into your jeans and polish off with pointed-toe boots and a bucket bag.
Skip the skinnies and wear your wide cuffs with everyday staples, like sweaters, puffer jackets, and LBBs (little black boots).
For a chic and easy outfit on the go, style a blazer and button-down shirt with wide-cuff jeans. To finish? Your favorite heels, of course. If it's chilly outside add in a pair of fun socks.
These Loewe fisherman jeans look especially elevated styled with a tweed blazer and lace-up white boots.
Just when you thought you knew everything about the wide-cuff denim trend...
The beauty of wide-cuff jeans is they are statement-making enough on their own. If you want a low-key look simply wear yours with everyday separates like a tailored coat, lived-in tee, and whatever shoes that'll get you where you need to go.