Now This Is A New Year's Eve Outfit To Close Out The Decade With
@bettinalooney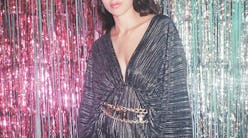 This New Year's Eve, an entire decade is coming to a close. Over the last 10 years in the fashion industry, street style exploded, Instagram influencing became a viable business model, and athleisure entered the lexicon. Now it's all coming to a climax, and from a fashion perspective, 2019's New Year's Eve outfit should be the decade's best, no matter what your plans may be. After all, the way you ring in 2020 sets the tone for the year to come.
If your plan is to keep things casual by staying at home with champagne and pizza, you'll need an outfit that's cozy but still memorable and fun. On the other end of the spectrum, if you bought a ticket to count down the minutes at a party in some far-flung destination, you'll need something a bit dressier, likely with some sparkle.
The goal is to incorporate some of the past year's biggest trends — feathers, bold colors, and suiting all fit the bill — in ways that still fit you and your midnight activities this December 31. Ahead, four ensembles to shop depending on the type of New Year's Eve soirée you're attending to kick off the return of the roaring '20s once again.
Wear For NYE Staying In With Your S/O
Keeping it low key this year and watching the ball drop from the cozy convenience of your couch? Smart move. Skip the fuss of dinner reservations and crowded open bars and snuggle up beside the fireplace with your S/O, instead. Even though you'll be in a laidback environment, that doesn't mean you have to stick with flannel pajamas. Instead, try a pair with fun embellishments (feathers! lace! ruffles!), then accessorize with some furry slippers and a sleek watch to keep an eye on the time. All that's left to do is cook a nice meal and pop some bubbly.
Wear to A New Year's Eve House Party With Friends
It's always a safe bet to ring in the New Year than with people you actually like instead of chancing it with over-zealous strangers singing the lyrics to whatever song the bar happens to be playing that night. If you're heading to a pal's abode and want to look festive but not over-the-top, try a chunky sweater layered over a slip skirt. To finish, a pretty piece of jewelry or two and a pair of low heels should do the trick. This approach will look polished with a stylish hint of insouciance.
Wear For A Night Out Dinner And Dancing
Okay, so you're taking it up a notch and have gone through the effort of rallying friends to commit to a dinner on the town and perhaps even a little dancing or bar-hopping afterwards. If this is your chosen scenario for New Year's Eve, then a pretty dress or blouse and skirt is in order. A velvet or brocade texture is perfect for this scenario since it translates as festive but doesn't come across as too fussy to party all night. To complement, a cute microbag to hold the essentials, low-heel strappy sandals, and an interesting necklace. Voila!
Wear For A Ticketed New Year's Party
It's the end of a decade — why not act like it, right? If your New Year's Eve celebrations involve a full-fledged ticketed party, then you're probably of the mindset that a bold outfit is the right move. Go all out and invest in a beautiful bedazzled dress to ring in 2020. You'll likely wear it for many years to come since a splashy sequin dress never goes out of style. Plus, all that's needed to complete the look is a few easy accessories and a swipe of your favorite lip color.