6 Last-Minute New Year's Eve Outfit Ideas That Are As Chic As They Are Effortless
Silvia Olsen/Shutterstock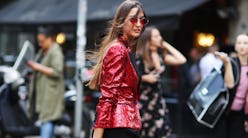 It seems like the anticipation for the holidays lasts for months, only to be over in what feels like a few minutes. And thanks to the lightning-fast speed they fly by, it often happens that New Year's Eve and its celebrations show up more quickly than expected, leaving many with no time or energy to find the perfect outfit they've been dreaming of. Thankfully, last-minute New Year's Eve outfit ideas are everywhere you look, and require little more than pieces you probably already own and a few fun (read: sparkly) additions.
No idea where to start? Take a look at the outfit ideas below, and then head straight to your closet to see how you can recreate these looks for yourself. Whether you go as simple as a black top and jeans (with some sparkly earrings and shoes to match, of course) or a bright statement dress, it's surprisingly simple to throw together a look in a matter of minutes that's sure to wow all night long. Ahead, six outfit ideas that are simple, chic, and perfectly effortless, so even those who waited until mere hours before the festivities start can still pull off their dream look for NYE.
An Oversized Blazer Over A Sheer Top
Everyday pieces like a blouse and a blazer can become the perfect party look with a few tweaks. Opt for your oversized blazer instead of a fitted style and layer it over a sheer blouse for a look that's fun and dance floor-ready. All that's left to add is some heels and a little (or a lot) of shine.
A Black Top & Jeans
No time? No worries. All you need is a chic black top and a pair of jeans – and then let your accessories do the talking. A pair of statement earrings or a blingy hair accessory will add the pizzazz you're looking for to this ultra simple look in no time flat.
Your Favorite LBD & A Pair Of Chunky Sneakers
Own a little black dress and a cool pair of sneakers? Then you've got an easy (and comfortable) NYE look that only requires two pieces. Add some extra sparkle (if that's your kind of thing) with some crystal earrings and shimmery makeup.
A Bright Dress & A Classic Purse
NYE looks don't have to be all about the glam. Go with a sweeter style in one of your brightest dresses and a classic purse. With a statement hue and the right accessories, you'll still stand out, guaranteed.
A Shimmery Top & Leather Pants With A Pop Of Color
There's no need to go out and buy a sequined dress you'll only wear once. Instead, choose the shimmery pieces in your closet you wear with your everyday looks. A shiny blouse paired with leather pants is a foolproof, simple combination that looks festive and is ridiculously easy to throw on. Add a pop of color with your shoes or handbag to make even more of a statement.
An Oversized Sweater & Over-The-Knee Boots
There's absolutely no reason your look has to be complicated or uncomfortable, and this outfit proves it. There's a good chance you already own a large sweater and a pair of statement boots, so put them together for a NYE ensemble that'll wow all night.