4 Julia Roberts-Approved Products Your Makeup Bag Needs ASAP
Rich Fury/Getty Images Entertainment/Getty Images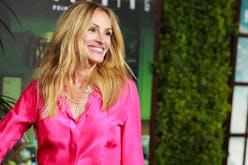 Julia Roberts has been a beauty icon since she graced the movie poster for Steel Magnolias alongside Daryl Hannah and Dolly Parton 30 years ago. Somehow, the Oscar winner is as much a symbol of youth as she was in her 20s, hardly ever deviating from the natural look that launched her into fame years ago. There are a few key beauty essentials that keep Julia Roberts looking as timeless as she does.
Have you noticed just how little the film industry veteran's looks have changed in the past three decades? If she and Richard Gere were to recreate the jewelry box scene from Pretty Woman today, you might honestly change your stance on time travel. That's how much Roberts has defied age.
You're probably wondering how it's even possible. Fortunately for all the mortals who worship her, she's revealed a few secrets over the years. Roberts has admitted to massaging olive oil into her skin for that coveted glowing complexion and brushing her teeth with baking soda to keep her pearly whites cavity-free.
Her usual beauty routine is rooted in simplicity. As it turns out, aging as gracefully as Julia Roberts might not be as difficult as it seems. The key elements of her everyday look and everything you need to recreate them, ahead.
Glowy Complexion
The one thing Roberts will never step onto a red carpet without is a glowy complexion. The Lancome spokeswoman certainly doesn't get that sun-kissed look by baking in the summer sun, either, considering how often she advocates for wearing sunscreen. Her makeup artist, Genevieve Herr, has credited sheet masks, brightening creams, and a bit of cheek shimmer for doing the trick.
Get The Look
Bold Lashes
Another thing the Ben Is Back actor is rarely seen without: defined, touch-the-sky lashes. Thankfully, there are a few products out there that actually defy the need for falsies, so all you need for a bold fringe effect is a good mascara.
Get The Look
Soft Pink Pout
If there's one thing that sums up Roberts' beauty look completely, it's a neutral lip. Matte or glossy, the legendary actor doesn't discriminate so long as it's on par with her signature pale-pink shade. If you're eager to copy America's sweetheart's look, her pout would be a good place to start.
Get The Look
Voluminous Hair
Always styled in the most perfectly messy, natural-looking waves, Roberts' hair never lacks volume and her longtime hairstylist, Serge Normant, makes sure of it. Over the years, she's adapted her hair to whatever the trending styles may be, but never once has it fallen flat (literally).
Get The Look