EmRata Found A Foolproof Way To Style Snakeskin Boots
Jamie McCarthy/Getty Images Entertainment/Getty Images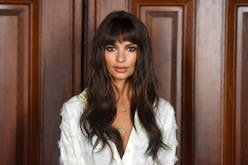 There's no denying that animal print has made waves in the fashion world over the last year. The trend has taken over your Instagram feed, lined your go-to stores, and even dominated your favorite celebrities' street-style looks. The latest evidence? Emily Ratajkowski's snakeskin boots, which propose a more subtle rendition of the trend, demonstrating that less is more.
The model took to her Instagram stories on Thurs. to post a quick selfie. The mirror shot showed Ratajkowski wearing black skinny jeans, a matching black top with a plunging neckline, and a black oversized blazer. What really stood out about her look, though, was the pointed snakeskin ankle boots that were tucked into her skinnies.
Known for her commitment to minimalistic style, EmRata is familiar with the concept of an accent piece. This time, her boots did the trick. Rather than mixing prints, textures, or styles, the swimsuit designer decided to put all the emphasis on her glamorous footwear by opting for an all black-ensemble.
Ratajkowski completed her outfit by threading a wide belt through her high-waisted jeans and decking herself out in her signature layered gold necklaces. If you've been sneakily eyeing a pair of snakeskin boots but can't quite nail down what to wear them with, you've officially found some worthwhile inspiration.
Wear the look to work by swapping Ratajkowski's low neckline for a black blouse or turtleneck, or make the look cold weather-ready by adding a warm knit and a puffy parka.
Top it off with EmRata's famously simplistic beauty routine, focusing on bronzed cheekbones, a soft highlight, and a natural-toned pout. Work some texture spray through second-day hair for a full-on Ratajkowski look. Ahead, shop The Zoe Report's cherrypicked selection of statement snakeskin boots to try before the season's over.
Shop The Look