This Wedding Designer Is On Every Trendsetter's Radar Right Now
Courtesy Of Lein Studio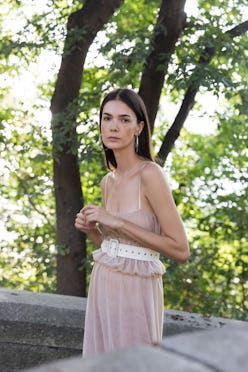 Every woman has a different idea of what they'll wear when they walk down the aisle. For some, it's about the glamorous ball gown, but for others, there's a move toward a more contemporary look. To help meet that demand, the last fews years have seen the emergence of a number of alternative wedding dress designers that are taking a non-traditional approach to wedding-day dressing — both in design, and in the way the clothes are intended to be worn.
Read more: How To Wear Pants To A Wedding If Dresses Aren't Your Thing
These labels are approaching the design process in thoughtful, and at times unexpected ways. "Bespoke is a big driver of my business, explains Meredith Stoecklein, the founder of LEIN. "LEIN pieces aren't meant to gather dust in a box after the wedding day, and can be incorporated back into your closet." This means an exploration into non-traditional cuts and colors, all tailored to a bride's own interests and sense of style. Other brands are embracing this same idea through customization and mixing and matching of pre-made designs, like with the Amsale x You collection. "Brides can browse through our design library and pair their favorite bodice with the skirt that best fits their personality," explains Margo Lafontaine, design director at Amsale. "In the end, they're creating their own definition of a dream dress that's true to their style."
Read more: Can You Wear Black To Weddings? An Etiquette Expert Says Yes
Now that bridal fashion week has wrapped in New York, it's clear that the industry is shifting, the future of bridal is less about saying yes to a cookie cutter dress, but more about embracing a bridal look that fits your personality and wedding — traditional or not. For more insight on how the industry is changing, below see four designers that are challenging the traditional perspective on bridal wear.
LEIN
When Stoecklein founded LEIN in 2016, she tapped into her roots at brands like Zac Posen and Narciso Rodriguez to create a different point of view around bridal wear. "My background is not only ready-to-wear, but also menswear. I design from a practicality standpoint," she notes. In addition to her seasonal collections, Stoecklein also has a strong bespoke dress business, where brides can collaborate on looks for the rehearsal, ceremony, afterparty and beyond.
For the Fall/Winter 2020 collection, Stoecklein focused on looks that not only fit the LEIN women on her wedding day, but can also transition to everyday life. "There are pieces in my closet that I wear in one city but not another. I wanted to create versatile pieces to wear in different places, spaces, and times in my life," she says. "Introducing beadwork and fringe, this collection has a bit more softness and romanticism than past seasons. It's in a nude, white, and black color palette. Not all wedding dresses are white, and I love showcasing a style in an alternative color."
Savannah Miller
"My first fashion label was in women's casual wear, and as such my approach to bridal is always more from a fashion angle," founder Savannah Miller tells TZR of the eponymous line she launched in 2016. "I spent my formative design student years at Alexander McQueen, so my attraction to the avante garde was definitely ignited there. The aesthetic is contemporary and fresh rather than the traditional bridal aesthetic." For Fall 2020, Miller titled the collection Breathless, inspired by a Nick Cave song of the same name. "The juxtaposition of contemporary music and archival fashion give this collection a unique and fresh point of view," she notes adding that 1930's slip dresses were another reference point for her latest designs.
Jenny Yoo
"Jenny Yoo focuses on a contemporary minimalism, illustrated with feminine details and structured silhouettes," Dina Gundy, the brand's Director Of Marketing tells TZR. "Her fresh approach to bridal fashion highlights clean lines and elevated tailoring while mixing luxe fabrications." Inspiration for the line comes from unexpected sources, "strong lines in French architecture," she notes, adding that they "blend together to seamlessly create a refined and soft romance but with statuesque shapes." When the brand launched in 2002, its focus was on bridesmaid styles, but over time, the brand has expanded into bridalwear and is now in 200 bridal salons, and can be purchased online.
Amsale
"Our founder, Amsale Aberra, founded the company because she couldn't find a bridal gown that reflected her own personal style," Lafontaine tells TZR of the NYC-based label. "Everything at the time was so overly-adorned and frilly, so she stripped all that away. Amsale's gowns are purposefully simple, with clean lines and a singular focal point so that the bride stands out, not the dress." Like Jenny Yoo, the brand has also focused on accessories like capes and removable tulle trains to give brides the opportunity to modify a look to their own desire.