The Best New Beauty Products Launching This Month
OUAI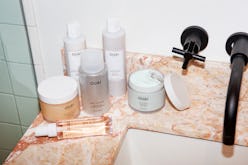 Welcome to October — AKA, the month that was practically made to celebrate fashion girls and their innate knack for dressing up. Yes, I'm talking about Halloween and yes, I'm beyond excited that it's finally (almost) here. Apparently, beauty brands feel the same way. Many of the new October 2019 beauty products ahead were designed with the spirit of Halloween in mind — from MAC's Maleficent-inspired collection to NYX's costume-y collaboration with makeup artist Ve Neill.
Whether your October MO is "themed parties every weekend" or "maybe I'll do a smokey eye on the 31st," there's a just-launched beauty product (or three) that's worthy of your collection. An all-over application of shimmer from Deck of Scarlet's new Celestial Nights Kit pairs well with a halo and wings, while a subtle dusting works as an everyday highlight. (Use Veil Cosmetics' Oct. 2 release, the Foundation & Concealer makeup brush, for a flawless application either way.) Of course, after a month of intense makeup looks, your skin will need a little TLC. Non Gender Specific launches its clay-based Everything Mask on Oct. 1 to deep-clean pores and leave you glowing, and BeautyStat delivers the Universal Pro-Bio Moisture Boost Cream — packed with probiotics — on Oct. 7.
Ahead, discover 31 brand-new beauty products launching in October (one for every day of the month, obviously). But be warned: They're scary-good.