The 31 Best New Beauty Products Launching In July
Mented Cosmetics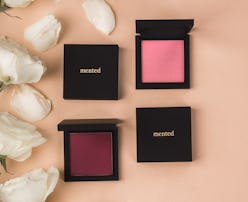 Welcome to July, the month of beach days, barbecues, and — based on these new July 2019 beauty products — very chill beauty routines. After all, nothing says "summer vacation" like minimal makeup, SPF skincare, natural hair, and a dose (or three) of stress-relieving CBD.
First thing's first: Sun protection should be a priority year-round, but it's natural for SPF application to ramp up in the summer — and Solid & Striped (yes, the swimsuit company) has you covered with its latest launch, a broad-spectrum SPF complete with '70s-inspired packaging. Or, on Jul. 25, head to Credo Beauty to stock up on its newest clean sunscreen: an ultra-matte formula from Canadian brand The Sunscreen Company. Slathering yourself in SPF doesn't necessarily mean opting out of a summer glow, though. M-61's Hydraboost Body Butter Gradual Tan, which launches Jul. 1, makes it easy to fake the effect of sun-baked skin; while Goop's new Body Luminizer offers a more subtle approach.
If you haven't yet indulged in the year's biggest trend — CBD, of course — July's the time to try. What better way to top off a lazy summer day than with a dose of cannabidiol, either for skin (via NYX's latest collection) or stress (with bio-available capsules from new brand Kaleidoscope)?
Ahead, the 31 chillest beauty products July has to offer — from makeup to skincare, hair care, nail care, fragrance, wellness, and more.