30 New Hairstyles To Try If You Love Box Braids, Twists, And Soft Curls
instagram.com/lacyredway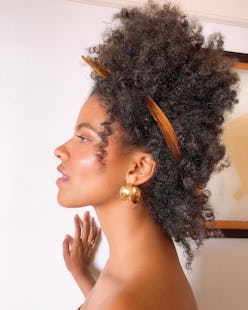 If this summer had to be summed up in one word, it'd surely be "unpredictable." From unforeseen celebrity breakups (so long, Jamie Foxx and Katie Holmes), to a hot girl movement that left ladies everywhere feeling more empowered than ever, this season proved to be one sweltering — albeit iconic — time. And while the weather is a-changin', one thing remains the same: the task of deciding which looks will keep hair healthy, hydrated, and stylish for the long month ahead. Luckily, many celebrities are making that so much easier, showing off their textures with new fall 2019 natural hairstyles. But with the decreasing temperatures comes a new set of concerns for natural girls out there — maintaining moisture.
"There are some things that all hair textures — kinky, coily, curly, wavy and straight — need. Like hydration, vitamins, and oils, which come from eating a rainbow of foods, as well as looking to product labels," celebrity hairstylist Vernon François tells TZR. All of the above are featured in his eponymous hair brand, which is "great for keeping hair hydrated in any weather, because the base ingredient of all my formulas is purest water," he notes. "It's the best ingredient for hydration — which is then blended with highest quality natural oils and plant extracts to help soften and keep moisture within the strands."
And with fall around the corner, François predicts that textured bobs will have a huge moment, too. "From what I've seen on the streets and on social media, I've noticed a lot of people with wavy hair choosing to go for a lob flattened at the top with the texture fluffed out towards the ends. Quite a few people with curly hair are choosing to go from long to shorter, around the level of the neckline, with shape at the back that reinvigorates the curl pattern," he shares.
So if September is the month you're really looking to breathe new life and hydration into your natural hair routine, here's an eye-catching dose of hairstyles that will leave you inspired.