30 Fresh Natural Hair Ideas To Try Every Day In April
Dia Dipasupil/Getty Images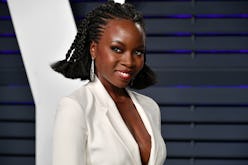 Even though fashion month is over and awards season is slowing down, Hollywood's brightest stars like Kelly Rowland, Lupita Nyong'o, Tessa Thompson, and Amandla Stenberg continue to serve up major natural hairstyle ideas for spring that are worthy of their own accolades. Each look, whether it be a protective style or a perfectly plucked Afro, shows the versatility of natural hair — and further proves the point that there are plenty of looks to try, no matter your length or curl type.
Takisha Sturdivant-Drew, who works with Kerry Washington, predicts that "short, natural, different-colored hair with designs cut along the side and back of the hair" will be a popular style for spring 2019, she tells TZR. Another look on her radar? The return of classic go-tos like flat twist-outs or braid-outs on the carpet. "Wet all of the hair and flat twist the hair in the way you would like the hair to fall," she says. "You flat twist it by doing a double twist from the roots to the ends as flat as you can on the head." (See an example here, if you need a hand).
And even if you're more of the low-maintenance persuasion, fear not: Since the weather is warming up, that means that it'll be humid enough for wash-and-go styling; just apply your favorite curl styler to damp hair, arrange your curls or coils the way you'd like them to fall, and let nature do the drying.
Ahead, find some of those looks — and more! — to try out yourself.
Braided Bantu Knots
Lupita Nyong'o, the star of Us, is hard at work promoting the blockbuster film... meaning that she's serving consistent lewks with each press appearance (courtesy of her go-to stylist, Vernon François). If you have box braids like the actress, wrap your front section in some classic bantu knots, secured with invisible elastic bands.
Chunky Braids
Or, just gather your plaits in a simple side ponytail, rubbing some lightweight oil over them for high shine.
Faux Curly Bangs
On lazy days, tie your hair up with a pretty hair scarf and fluff out a little section of your hair in the front for a style that only looks like you tried hard.
Blunt Afro Bob
"So much magic when playing with kinky hair," François captioned of this structural 'do.
Short Hair Updo
Further proof that you don't need a whole lot of hair to wear a fun updo. François gathered his longtime client's curls into this classic, airy pony.
Classic Cornrows
Tracee Ellis Ross always looks so refined with her straight-back braids.
Accessorized Afro
Sure, Zazie Beetz's curls (styled by Lacy Redway) are glorious... but we can't help but be dazzled by this bedazzled headband by Prada. Shop a similar one below.
Braided Headband And Bun
But if you don't have a headband handy, just use your own hair. At the 2019 Oscars, a Kiki Layne (also styled by Redway) wore a sleek low bun styled with two flat braids in the front. For a sleek ponytail base, use a bit of hair gel to slick everything down. Cover it with a silk or satin scarf and let set overnight.
Pineapple Gone Wild
Scoop your curls up in a loose high bun like Tessa Thompson's, then strategically pick out some of your strands for a purposely messy finish.
Braided Finger Waves
"I️ told [François] I️ wanted fingerwaves with cornrows and he turned that out in two hours. A true artíst," Amandla Stenberg captioned an Instagram after the 2019 Oscars. To extend the life of the braids and prevent flyaways, rub some mousse over them every couple of days before going to bed. And don't forget to secure with a satin scarf.
Low Pony and Side-Swept Locs; High Bun
Songstresses Chloe and Halle Bailey always display so much versatility with their gorgeous locs. At the Essence's 2019 Black Women In Hollywood luncheon, the sisters served up a double dose of hair inspo — Chloe, with a low pony and makeshift bangs, and Halle, with a mile-high bun.
Faux Locs With Half Bun
Kelly Rowland always looks like a queen — so let's refer to this magnificent bun as her crown. Be sure to grab a thin headband to secure a bulkier updo like this one.
Gilded Golden Braids
Insecure star Yvonne Orji looked radiant at Essence's 2019 Black Women In Hollywood luncheon, and her gorgeous gold headband only added to the sparkle. She assembled her dark blonde microbraids into a low fishtail braid adorned with a gilded leaf (like the one below) in front.
A Pierced Pair Of Plaits
Janelle Monáe always has the most playful hairstyles, and her Maison Valentino Fall/Winter 2019 look during Paris Fashion Month was no exception. To keep frizz at bay, be sure to use a hydrating curl cream for moisture before braiding.
Bedazzled Space Buns
During Paris Fashion Week, celebrity hairstylist Nai'vasha Johnson put a fun spin on Monáe's "drama buns" buns by wrapping craft store pearls around them.
Sleek Low Ponytail
To secure your ponytail with extensions, as seen on Angela Bassett at the 2019 Oscars, use a series of small ponytails to secure the hair to your base.
Short Curly 'Fro
Logan Browning showed off her new cropped cut at the Kenzo Fall/Winter 2019 show during Paris Fashion Week. Refresh your curls throughout the day with a couple of spritz of a liquid leave-in followed up by an oil and light hair cream to seal in moisture.
Textured Long Pony
Serena Williams' ponytail with extensions blended seamlessly into her own natural hair as a result of Dove's Restyling Milk, which Johnson used before the 2019 Oscars.
Braided Mohawk and Tendrils
Hairstylist Nikki Nelms always gives Zoë Kravitz the coolest styles with her micro braids — like this faux mohawk for the 2019 Vanity Fair Oscar Party.
Pineapple With Faux Bangs
Tia Mowry strategically left a generous section of her curls out in the front of her ultra high ponytail, eliminating the need to actually use scissors.
Blown-Out Afro With Micro Bangs
Yara Shahidi looked every part the disco diva for the Zendaya & Tommy Hilfiger party in Paris. To get your hair as big as possible while blowdrying, apply heat protectant to small sections and concentrate heat on the root to stretch out your curls.
Half-Up Half-Down Curls
A rich deep conditioner will keep your curls as fluffy as Marsai Martin's.
Embellished Textured High Pony
You don't need a red carpet rollout as an excuse to wear rhinestones. Take a page from Lizzo's recent Ellen Degeneres Show appearance and secure your updo with some glittery accessories.
Hair Clips And Center Part
You don't need long and luxurious waves like Normani to replicate her look — just a tail comb to part, a hard brush and gel for smoothing, and a set of classic clips for accessorizing.
Angled Bob and Curly Bangs
A lightweight curl mousse keeps texture defined without any crunch or annoying white flakes — and you see none of those on Jessica Williams' cropped curly bob.
Ghana Braids With A Gold Headband
"Danai Gurira is a Regal African Queen!!!" celebrity hairstylist Larry Sims said on Instagram to describe the Black Panther star's divine Ghana braids at the 2019 Oscars. To get a good grip while braiding, Sims used Biolage's Texture Sap at the roots and cornrowed her hair straight back.
Jumbo Cornrows With Frayed Ends
Hours later, Gurira and Sims switched things up by going short and cutting her braids from earlier, securing the ends with rubber bands.
Picked Out 'Fro
Sims, who works with Sanaa Lathan, gave his client a beautiful, fluffy twist-out. See his step-by-step breakdown here.
Braided High Ponytail
Lathan also looked stunning in this cornrow and box braid combo. Peep how sleek her edges are, too.