I Finally Organized My Closets & Cabinets Thanks To These 30 Brilliant Products
Fancy/Veer/Corbis/Corbis/Getty Images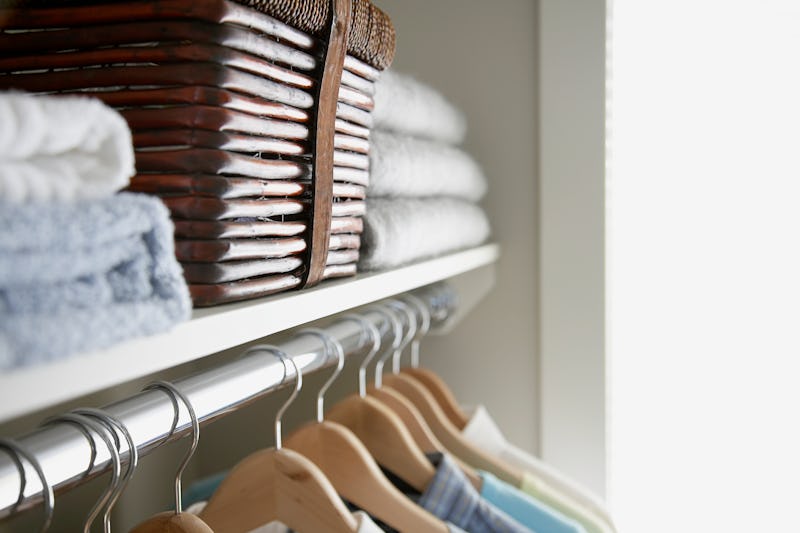 For years, my relationship with "getting organized" was a never-ending cycle of frustration. In a burst of motivation, I'd tear my closet apart and start from scratch, doing enough sorting and color-coding to make Marie Kondo proud. However, things would inevitably start slipping over time, and ultimately, I'd be left with the same tornado-stricken mess as before. I finally broke the cycle when a move forced me to swap my spacious two-bedroom for a tiny shared studio. Ironically, it took cutting my living space in half to get me here, but I finally organized my closets and cabinets for good, all thanks to some truly brilliant organizational products that also helped maximize my storage space.
Feeling skeptical? Trust me, I get it; after all, if your goal is to cut down on clutter, the idea of buying more stuff probably feels counterintuitive. But now that I realize how invaluable these products can be, my only regret is not buying them years ago. After all, getting organized is one thing, but staying organized is another. Even when I had twice as much storage space, I still struggled to stay organized on a day-to-day basis because my setup was simply too difficult to maintain.
Now that I have smart storage solutions for everything from socks to silverware, keeping things organized has become practically effortless. Finding the right tools to get me here has taken a ton of time, energy, and research — but lucky for you, I've rounded up some of my best finds in this handy guide, just ahead. Whether you need a home for an ever-expanding shoe collection or a way to keep your hair styling tools from taking over your bathroom counter, you're sure to discover at least one thing here that makes sense for your space. To see for yourself, just keep reading.
We only recommend products we love and that we think you will, too. We may receive a portion of sales from products purchased from this article, which was written by our Commerce team.