How These 3 Size-Inclusive Brands Are Overhauling The Style Landscape
Photo: Courtesy of Universal Standard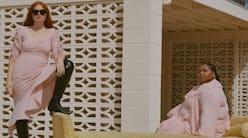 Here's a fact: I'm a known pessimist. But even I can admit that the fashion industry has done a decent, if not good, job at acknowledging its size problem in the last few years. Thanks to social media and an earnest shift in culture, folks above a size 12 who have traditionally been underserved in the fashion and retail spaces in general have been empowered to speak openly about their experiences, build community, and rightfully demand more from the industry. The number of size inclusive brands is steadily increasing as the conversation continues to grow, and behind each trailblazing label — from Universal Standard, And Comfort, and the forthcoming Henning — are women not only transforming the space, but using their authority and platforms to push for wider-scale change. It's a movement without a doubt, one I desperately needed when I was growing up.
But even with all of that progress, the fact still remains that finding quality clothes for anyone over a size 12 is stressful at best, and demoralizing at its worst. As someone who has personally been both a size 4 and a 14, the differences in my shopping experiences depending on my size at the time has been a tough pill to swallow, even today — between style options and treatment by store associates, to the simple privilege of actually having your size in store. With the average American woman now between sizes 16-18, it's hard to understand why and how most brands are still doing a hard stop at size 12 (that actually fits like an 8).
Something's got to give, but what? It's an overwhelming question to tackle alone, so I decided not to. Read on to hear from the founders behind the aforementioned inclusive powerhouses on what brands are still getting wrong about the plus-size category, and how they can do so much better.
Universal Standard
"Disruptor" is certainly a term that gets thrown a lot, especially in fashion. But there really couldn't be a better descriptor when it comes to Universal Standard. What launched in 2015 as an eight-piece capsule collection for women sizes 10 through 28 has evolved into a luxe, minimalist-modern destination for sizes 00 through 40 — an unprecedented range.
"I think that the thing that most brands are getting wrong is that they're still segregating plus-size from straight size," Alex Waldman, co-founder and CCO, tells TZR. "They will suddenly cover plus size, but those pieces only come in plus size. They are not a continuation of what they already have in straight size, and there's usually a much, much smaller selection of them. To us, that kind of defeats the purpose. If you wouldn't make that for a size 6, don't make it for a size 26. Why would you?"
It's a question often posed and rarely answered, but one the brand attempts to rectify by joining forces with iconic brands like J.Crew, Goop, and most recently Rodarte, to thoughtfully extend their offerings.
"I think it's really, really important that whatever brand decides to address this need, think of the customer first. I mean, again, it sounds like a no-brainer, but I think there is a tendency to see the dollar before the actual customer sometimes," says Waldman. "There is an acknowledged large audience that is underserved. I think it's very important that whoever goes into this really, really cares about making great things for women of all sizes."
And for brands who see the potential financial risks as their biggest reservation for entering the category, Waldman says to take it on the chin.
"It's very, very important to really understand that the expenses will be higher, and it's a little bit like tearing off a band aid," she adds. "You know, you just have to accept it and do the very best that you can to create lovely things for women of all sizes."
And Comfort
After years of experiencing just how difficult it was for her mom to find clothes in the mainstream market, Karine Hsu began working on And Comfort to create well-made, minimal pieces for women who have been routinely excluded from the aesthetic (and fashion in general) in the past because to their size. Focused on curated capsule collections made from ethical, sustainable fabrics, you'll find key wardrobe essentials like structured tunics, apron dresses, and the perfect pair of pleated culottes, all offered in sizes 10 through 28.
"We create product through a community-driven approach," says Hsu. "Meaning that all styles are made from luxurious natural fibers and fit- tested by real women of all different sizes and body shapes." This democratized approach allows for And Comfort to not only offer its customers the best fit and quality possible, but normalizes dialogue between the brand and the customer — one big piece of the puzzle Hsu says major, established brands are still missing.
"I think it's been hard for established brands to expand their sizing because frankly, it's hard to be super innovative and agile in a big company — it's just not in their company DNA," says Hsu. "That's why I think a lot of newer brands have had more success with sizing, messaging, and general branding, since they are incorporating feedback and including customer feedback from the very beginning, not just as an add-on to their current assortment."
Henning
While Henning is only set to launch in fall 2019, its founder and CEO Lauren Chan is no stranger to the plus-size category — or the conversation surrounding it.
"One of Henning's goals is to carve out a space in the plus-size market where working women can find menswear-inspired suiting, modern tailoring, and day-to-night pieces that make her feel like herself," Chan tells TZR. "To paraphrase Aidy Bryant in Shrill, no weird Eiffel Tower prints here!"
A former fashion editor and plus-size model, Chan is setting out to challenge the sartorial forces that be that assume women in the plus-size category don't care about personal style; or worse, that they don't have any at all.
"It's as if most brands believe that once a woman is above a size 12 she has no sense of individuality — that we're okay with the same watered-down, semi-trendy offerings we've had in the past," says Chan. "On the other hand, straight-size shoppers get an incredible diversity of brands that they can identify with. They have the opportunity to shop from Zimmerman or Alex Wang; Gucci or YSL; Assoulin or Margiela."
Though most of Henning's offerings will likely remain a mystery until its official launch this fall, its Instagram page has already begun teasing key pieces like structured trench coats and striped button-down shirts. Those staples will presumably sit beside pieces conceived and created using direct community feedback, as its common practice over on Henning's socials to ask its future customers what they want to see from they brand — and what they absolutely don't.
"I have to sell clothing that people actually want," Chan says. I have strong opinions that I believe are right, but at the end of the day, I either have to find women who agree with me and bring them into our community or I have to listen to what people who want to be in our community are saying and give them what they need."
For now, Chan is sticking to the latter, and believes Henning will be all the better for it. "Talk to your customers," she advises to other brands. "Hire plus size women. Listen and iterate."