Mented Cosmetics' New Launch Takes The Guesswork Out Of Red Lipsticks
Imaxtree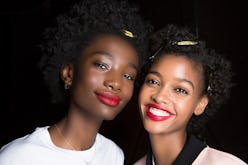 Like snowflakes and fingerprints, no red lipstick is the same. A quick search on Sephora's site turns up nearly 280 variations: reds with vibrant orange tones, deep and dark scarlets, and ones with true blue undertones. And just like with foundation, highlighter, blush, and basically any other beauty product, it takes plenty of trial and error to find the right one for you — especially if you're a woman of color. Finding the perfect red lipstick for dark skin can be an irritating task at hand, but Mented Cosmetics just made the search so much easier.
The year-old brand known for its stunning offerings of nude lipsticks, glosses, and nail polishes tailor-made for women of color just released Red Trio, a collection of three velvet matte red lipsticks suited for darker skin. "Our brand has always been focused on everyday beauty, which is why we launched with nudes. We wanted to give our customer shades she could easily live in and pair with anything," founders KJ Miller and Amanda E. Johnson tell The Zoe Report. "But we kept getting requests for the perfect red, and when we thought about it we realized there really was another gap in the makeup market, because, like the perfect nude, a red really has to feel personalized."
So after trying "almost every red lipstick on the planet," the team realized that many of the reds from their competitors failed to diversify their undertones. Red Trio features three specific ones: Red & Butter is a yellow-based red (for warmer tones); Red Carpet is blue-based (for neutral tones), and Red Rover is a black-red (for cooler tones). "We're always looking to see what's already in market, because we want to be confident we're filling a gap and not just giving her more of the same," the team continues. "The reality is there are some really great reds out there, but a lot of them weren't made with our melanin in mind. Our creative process always starts with a diverse group of women and asking — not telling — what their needs are and what they want out of the product."
Granted, the market is saturated with plenty of options — and some of them are pretty good. The point of differentiation with Red Trio is the versatility. "It's got to be a product you can wear in any setting — day or night, board meeting or drinks. Interestingly, our customer is responding best to Red Rover, our black-undertone red, and I think that's because the woman who needs a black-undertone red has been vastly underserved. It's deep enough to work with dark skin tones but red enough to still read as classic," Miller and Johnson note.
In terms of picking your own Red Trio shade, the brand offers helpful imagery, as they shot all shades on light, medium, and dark skinned models. "But then again, makeup has no real rules," they add. "So you should choose the one you think you'll love."
As for the state of the industry, team Mented does think that the landscape of beauty is changing to be more inclusive, and that they're helping lead that change. But there's still plenty of work to be done.
"[Some] labs and brands aren't focusing on deeper shades, and often end up making those shades last and with the least amount of effort," they note. "When we work with labs, they often tell us that we take much longer to approve samples than other brands, but that's because we've been the consumer who's had to 'make it work' with products that weren't quite right. We refuse to do that to our consumer." Those same consumers will have something to look forward to next year, too. While the brand remains tight-lipped about upcoming launches, Mented will be in every major color category by next year, according to the brand. In the meantime, shop Red Trio... and clear out some space on your vanity by the time 2019 hits.