How Fashion Month Diversity Is Changing, According To Top Black Models And Artists
Pascal Le Segretain/Getty Images Entertainment/Getty Images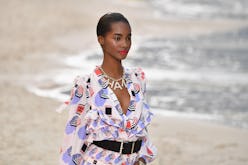 For the past few fashion week seasons, editors, buyers, and the masses alike are all finally calling out the dire lack of diversity on the runway. But before the models even make it to catwalk, the ripple effect of the lack of diversity can tear through the backstage scene, often in the form of mishandling of Black models' hair, or makeup artists not carrying enough makeup shades to work with every skin tone.
The Fashion Spot reported Oct. 4 that racial, size, gender, and age diversity at New York Fashion Week was at a record high for the Spring/Summer 2019 season — but improvement was all but inevitable. Just four seasons ago, runways in New York, Los Angeles, Milan, and Paris were about 83 percent white. And this season, nearly a quarter of the shows featured more than 50 percent models of color, according to Fashion Spot. While it's a steep jump, it's still not enough — especially because front-of-house representation is only part of the equation.
Though the report says the industry is slowly becoming more inclusive, there's still much work to be done. Here's where it needs to start, according to the eight models and hairstylists who've experienced this all firsthand.
New York Fashion Week SS19 — Tibi
"I found my hair got damaged a lot, especially during seasons, because they didn't know how to keep up with it. Stylists would flat iron it or blow dry it. It was breaking off, so I decided to do the big chop [before fashion week] on Aug. 4, 2018 because of the damage. I know a few models that did too, because they'd rather maintain their own hair — or because there's so much damage and breakage [from backstage]. It's important for you to be confident in your work, and you can't do that if your hair is damaged or if you don't feel beautiful.
"And it's just easier. I could do my hair for the show instead of someone else, and I know it's going to be safe for my hair. I do think that there needs to be improvement as far as that, where Black products are used and where the stylists can do Black-textured hair. Because there are a lot of people who don't know, and they will say it. If you bring products, they're open to using them. But sometimes, Black models' hair gets messed up, or they get left to the side and they're to do their hair on their own, and I don't think that's okay. You could have lint in your Afro, or it can be flat. So I do think it's important that stylists work on that.
"When I first started, I felt like I had to be quiet about it. But at the same time as I worked more in the industry, I know it's a teamwork thing. All of us are working together, so why not have your input too? We're the models. We're the ones who have to walk and look like this. Now, if I don't like something, I'll be like 'oh, would you mind doing it this way?' or, 'can I show you a product?' I do it in a polite way where it's not rude and that we're both learning and understanding."
New York Fashion Week SS19 — Harlem's Fashion Row
"I don't think [backstage] is inclusive at all, but the process has begun and I see [a variety] of faces backstage now. Models, we're getting there. But we do need more makeup artists and hairstylist and nail artists of color.
"It's always hard backstage when it comes to hair. Sometimes I just come ready myself, because they don't know how to do it. If anything, they tease it too much. And I've absolutely been hesitant to speak up. Sometimes I'll say that my face looks gray, but artists will say that it looks good. It'll become an argument and it's like, first of all, I know my own skin. So now, I'll bring my own foundation and powder. I go to the bathroom and fix it myself, and they never notice it. It's a pretty sad thing."
New York Fashion Week SS19 — keyed at Cushnie, Harlem's Fashion Row
"Now that [there's an influx of] natural hair, we're going to [style it]. You're going to see a little shine, even if it's one inch. We're gonna see a little sponge roll action. I think those days [of not doing natural hair properly] are going away, and people are embracing and giving love to natural hair.
"Change is inevitable. There needs to be a lot of change and I see it happening, but I don't want to put all the pressure on designers because I don't want stylists to be afraid to reach out. You may not have done a runway show before, but go out and DM a stylist and say you want to help. Say you want to come out. It needs to be an effort on both sides for the people saying yes and no, and the people who want the opportunity. Be braver and say I want to do fashion week. Any time you make a shift in a career, you're going to lose money. But you have to look at the bigger picture. Everybody has to do a little bit on their part to make it more colorful backstage."
New York Fashion Week — Harlem's Fashion Row
"So many times I've been casket-ready at a runway show and I just looked and said, 'This is my face. I am gray, and my neck doesn't match. And this is my life.' That's actually part of the reason why I cut my hair, because they didn't know what to do. Turns out I look good bald, so there you go. The hair is more of a concern for me because I am natural and was going natural before. I don't want to heat my hair.
"Makeup has gotten better because there's more brands now that are like 'Hey, we have an undertone for a deeper skin tone.' That's something I had an issue with for a long time. The hair debacle is different. I have a model friend who has a huge Afro. A lot of times when she goes to shows, there's a frustrated hairstylist who goes 'I can't deal with your texture!' or other ones who say 'No it's good, we'll just leave you alone.'
"Honestly, given the shows that I've walked, it's a thing where it's like — is it worth it to bring it up?"
New York Fashion Week — Harlem's Fashion Row
"I don't usually [speak up]. I just go with the flow. If that's what they want, I suck it up and do it."
New York, Milan, Paris, London Fashion Weeks SS19 — Dior, Chanel, Chloe, Off-White, and more
"In my opinion, it's definitely gotten a whole lot better. There are so many [people of color] backstage now. It's getting there."
New York, Milan, Paris, London Fashion Weeks SS19 — Miu Miu, Marc Jacobs, Tibi, Monse, and more
"Makeup, I don't have a problem. Back in Brazil where I'm from, it's a huge problem. The makeup artists don't ask 'Oh, are you feeling good with your makeup?' They don't look at you. You're looking at me and know I'm gray, but you think it's not bad. Now I can buy my own foundation and everything. But it's good that brands are doing good job. I've done beauty jobs. They're getting more models and more shades.
"People are just now discovering [the beauty of Black models], but we've been here since the beginning. We always help and work with everyone. Now, we're being recognized? It's nice. We should be seen more and looked at more. We should have more people working. I like the fact that we're growing with that."
New York Fashion Week SS19 — Collina Strada, Savage X Fenty, and more
"My hair never gets touched, except for a little water. They don't know what to do with my hair. Makeup-wise, I feel like it's minimal too when they don't know. Foundation is still a big issue. I ran out of my Fenty 490, so I couldn't bring it to set. And then I didn't have my face touched. [Some] models have to bring their own foundations and their own Afro picks, so diversity behind the stage doesn't exist as much as I should. No one understands that it still hasn't changed.
"Photographers are becoming more diverse, like Tyler Mitchell. But I feel like there should be more. We're like, 'Oooh, a Black man shot Vogue'… but now?! It's a major compromise. He should be another regular, schmegular guy who did his thing."