3 Holiday Outfit Mistakes Fashion Insiders Never Make
Pixelformula/SIPA/Shutterstock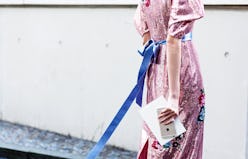 The holidays are synonymous with sparkle and shine, whether it be sequin dresses, or rhinestone-adorned accessories, or even glittery makeup. While an all-out glam approach to festive attire works for some ('tis the season!), others prefer to pair it back to a seasonal knit and pants, and there's no shame in keeping it simple. Regardless of your sartorial inclinations, there are holiday dressing mistakes to avoid, according to fashion-industry experts. Abandoning your personal style for the sake of a being "on theme" around the holidays is hardly realistic (or at all necessary). But when the goal is to dazzle at your next cocktail party or office soiree, retail buyers, fashion directors, and stylists have a few pro-tips for turning out looks on the party circuit that are both festive and directional.
If your party routine revolves around high-wattage sequins, glittering knits, or shimmering lamé, sleek accessories are ideal for tempering a razzle-dazzle effect. A classic pump or simple stiletto sandal will prevent a sparkly dress from teetering into disco ball territory — neutral shades like black and nude or metallic tones from silver to rose-gold all appear chic so long as you stick to clean lines and minimal shapes sans embellishment. A glittering minaudière, satin pouch, or mini wristlet offers a so-now finish that's perfect for dressier events. In terms of jewelry, don't be afraid to shine, but with a single statement piece as your focal point — a bold earring, necklace, and bracelet might just fight for attention.
Be Appropriately Dramatic
The most important tip when it comes to high-shine cocktail attire is knowing the time and place for it. "I've seen people at holiday parties dressed casually in denim or completely underdressed for the occasion," says Barneys New York fashion director, Marina Larroudé. "This is the time to go all out and invest in sequins and metallics," she explains, such as this sequin camisole dress by Robert Rodriguez. But don't scoop up the nearest on-theme sparkle top; instead, look for something that errs on the side of timeless, not costume-y. Find a body-skimming sequin dress you could wear with jeans in months from now, or a sparkly clutch that doesn't only scream NYE. "The shape is clean, but the color and lace details are special and unique. Anyone would stand out in the crowd wearing it," Larroudé says of the perfect piece.
Start At Your Shoes
Dressing from the feet up is a playful way to re-think your style for holiday parties — there's always that one shoe in your wardrobe that was purchased with the intent of wearing for a special occasion and has yet to make its debut. If heels aren't your comfort zone, Natalie Kingham, fashion and buying director for MATCHESFASHION.COM says it's best to avoid shoes that don't last the night. "I think the festive season is the perfect excuse to be glamorous and dress with confidence — it's the opportunity to wear something that makes you feel empowered. This doesn't always mean wearing high heels that you'll end up kicking off at the end of the night; you can still look amazing in an outfit with a pair of flats," says Kingham. Luxe textures and embellishments are key for a festive pair of flats from velvet and brocade to pearl accents and rhinestone detailing. To put fanciful details on full display, style with a pair of slim-flitting pants that hit just above the ankle or a midi hemline that floats over the top of your shoes for a feminine spin. If you can't bare the thought of parting with heels, a kitten heel is a comfortable alternative.
Think About The Long Game
To set yourself apart in a sea of sparkle and shine, stylist Rebecca Dennett says to avoid spending a lot of money on something that's very specifically holiday-themed because "chances are, you're not going to wear that again." For an alternative piece that you'll keep in rotation throughout the year, Dennett recommends shopping second-hand for vintage or discounted designer pieces. "Think about forever items rather than spending money in a panic. I went to The RealReal pop-up shop a couple of years ago and bought a black and orange Givenchy magnolia butterfly printed blouse on sale for $250 (!) which is timeless," she shares. "I feel special in it and can wear it all year for any kind of smart or casual event." When taking the printed-top route for a party, strike a luxe balance with velvet or satin trousers or a skirt and finish elegant heels. Post-holiday season, swap for jeans and your footwear of choice from sneakers to booties.