3 Fresh Print Trends That Will Define Your Summer Wardrobe
@dereklam on Instagram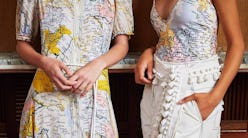 Prints play a surprisingly meaningful role in how we are perceived by others. Wearing leopard? It's fair to argue people might think of you as more extroverted. Dressed in micro florals à la Laura Ashley? Safe bet to assume you'll be an easygoing, pleasant individual to strike up a conversation with. It seems the patterns we choose to slip ourselves into directly correlate with the lens our personalities appear through (or at the very least, what our mood is giving off on that particular day). All that to say, 2019's freshest print trends will be doing a lot of heavy lifting and if you've exhausted your go-to's like Breton stripes or plaid then a fresh batch of unique textiles should be at the top of your spring shopping list.
Before you invest in a new print trend for 2019 it's a good idea to take inventory of the ones you're already working with. The last several months the patterns that have risen to the top range from psychedelic tie-dye, Toile du Jouy, gingham, Hawaiian florals, and even a few animals including snake and cow — all of which are worthy investments to help take your wardrobe up a notch (especially if you nail mixing and matching). However, if you're still yearning for more print trends that have an unexpected flair, the three ideas ahead should satiate. Ease into a charming floral that doesn't make its way onto clothing often enough or perhaps try a travel-inspired textile that will convince you book your next vacation. And if those don't do it for you, try an artful pattern to mix and match with everything in your wardrobe. Whatever your preference, the three unique prints below merit addition to your collection.
Daisy Prints
Dubbed "the friendliest flower" by Kathleen Kelly in the 1998 classic You've Got Mail, daisies are, in fact, a perfectly dreamy way to give your spring wardrobe a touch of whimsy. Plus, they're also a great alternative to bold multicolor florals if you're searching for something a little more low-key.
Map Prints
If you've been known to spontaneously pack up your things and go on an adventure then a map print should be in your repertoire. Thankfully, several key brands are offering a wide range of silhouettes in the travel-inspired pattern so you can incorporate them with your other closet staples.
Painterly Prints
Brushstrokes, watercolors, or something reminiscent of painting are all ethereal and painterly ways to add color and life to any outfit. Try it out head-to-toe or with a statement piece like the ones below, this artful trend is universally appealing.