This Is How Yara Shahidi Makes Denim-On-Denim Outfits Look So Modern
Frazer Harrison/Getty Images Entertainment/Getty Images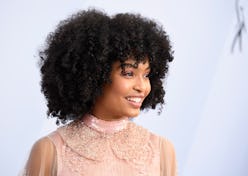 At only 19 years old, Yara Shahidi has quickly become an authority on fashion, constantly pushing boundaries and setting tomorrow's trends. While her recent red-carpet looks have been so whimsical and fairytale-like, her off-duty style is defined by bold, edgy pieces on the contrary. One way to adopt the actor's one-of-a-kind look is to copy Yara Shahidi's denim-on-denim formula.
When the teen activist arrives at an event, you can expect her to be wearing fierce, sometimes clashing prints — take a look at the snakeskin separates she sported at the Toronto Film Festival or the plaid-and-floral ensemble she wore to the #girlhero Award Luncheon in Oct. — but her off-duty looks are a bit more predictable.
The Black-ish actor sticks with what she knows, which is denim (and a lot of it). Somehow she always seems to find new ways to spin all-denim outfits. Three examples you'll want to work into your own look, ahead.
Oversized Jeans & Jacket
In Jan., Shahidi modeled the most trend-forward Missoni ensemble in New York City. The crisp collar of her white button-up peeked out from the neck of an oversized denim jacket that hit below the hip. The matching jeans were loose-fitting as well, and rolled at the cuff to reveal white t-strap heels.
Layered With A Floral Dress
Shahidi got creative with the outfit she sported to an event for Aldo and Refinery29 in Sept. The actor played video games in an "Artcade" wearing a floral button-up dress over skinny jeans and a classic denim jacket. She left the bottom half of the dress unbuttoned to highlight the pants and tucked the ankles into her sleek white booties.
Easy Button-Up & Destroyed Denim
Shahidi's off-duty outfit from Sept. is the easiest to create. She paired denim in the same wash, dressed it up with black leather slip-ons, pulled her hair into a convenient topknot, and hit the streets of SoHo. The actor wore her chambray top all the way buttoned and her skinny jeans were distressed on the knees.