29 Brilliant Solutions To Your Fashion Dilemmas That You Never Knew Existed
Mackenzie Sweetnam/Getty Images Entertainment/Getty Images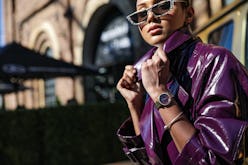 In the age of shoes with built-in storage pouches and virtual wardrobe-organizing apps, you might have think you've seen it all. But there are so many brilliant solutions to your fashion dilemmas on Amazon that you probably never knew existed. While some are a tad quirky, others are undeniably practical; finding those gems just takes a bit of digging. Ahead, a compilation of the most genius fashion inventions that are actually useful, so you can protect your clothes, stay more comfortable, and solve all those pesky sartorial dilemmas you've been dealing with for far too long.
Whether you've ever struggled to walk on gravel or grass in stilettos or you're facing the complication that just about every fashion girl is familiar with — a too-small closet paired with a moderate shopping addiction — the products on this list are here to help. While you might not have realized that there's an invention on Amazon that can triple the space in your closet, unzip your dresses for you, or make standing all day long in heels more comfortable, think again.
Scroll on for 31 revolutionary products that'll make dressing, shopping, and day-to-day life so much easier. Then, check out these 43 hidden gems that solve all your beauty dilemmas for equal measure.