This Subtle Winter Sunglasses Trend Is The Perfect Upgrade To Your Basic Shades
Shutterstock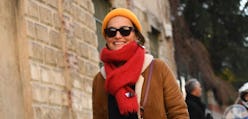 Unless you're planning a vacation to a tropic destination, you're probably not getting nearly as much sun this winter as you would during the warmer months of the year. All things considered, that doesn't mean you won't get your fair share. Sure, sunglasses are typically associated with lounging in the sun while wearing a chic swimsuit, but if the modern ways of fashion have told us anything, some things can be worn without a particular season in mind. So, if you're planning to wear a pair of shades for the next few months, there are a handful of winter sunglasses trends to keep on your radar.
Not only are sunglasses a practical accessory to have on hand — especially when you're facing the bright and sunny winter wonderlands — they'll also be the perfect addition to any outfit, making your ensembles that much more elevated. From classic black and forest green hues to bright and colorful tinted lenses, there's a chic trend that will go with anyone's personal style.
To give yourself a head start on building up your collection for the sunny days of winter (as well as those of the seasons following), scroll down to see the coolest sunglasses trends to start wearing now.
Forest Green
As a softer version of classic black sunglasses, dark green sunglasses offer the same amount of tint without feeling too harsh, and provide a cool, subtle color to an otherwise neutral look. Plus, they have a slightly retro feel to them, which is always welcomed.
Tinted Lenses
Though the rise of colored lenses came through last summer, the vibrant trend has come back for another round. Style these with your ensembles to give them an extra pop of color, or to simply brighten up your day.
All-Black
Maybe it's due to the trend of slick black coats reminiscent of The Matrix, but sleek, jet-black sunglasses have been popping up everywhere. If there's one trend to invest in this winter, it's this one, due to its versatility and timeless appeal.
Cat Eye
Don't be mistaken: Cat eyes are a classic. However, they've taken on a new approach with bolder, more pointed shapes this season. For an effortlessly sophisticated look, be sure to wear these.
Round Frames
Perhaps it's a reaction to the hyper-structured, architectural sunglasses that have been making waves over the past 12 months, but retro-inspired round frames have been catching the eyes of fashion editors and It girls alike.
Oversized Fit
While the smaller frames reigned supreme last season as one of the most popular sunglasses trends, their oversized counterpart is coming back with a triumphant return.