8 Hairstyles You'll Definitely See In 2019, According To The Pros
Imaxtree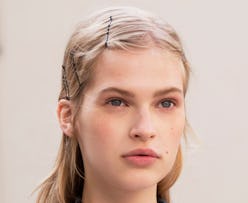 Laugh if you'd like, but the "new year, new me" mantra that always seems to trend at the end of December has some power. The cusp of a new year marks a great excuse to book an appointment with your hairstylist, because many of the top celebrity stylists are already predicting 2019's top hair trends.
According to Tym Wallace, who's worked with Taraji P. Henson and Zendaya, clients aren't interested in fleeting styles that call for lots of upkeep and attention. They want convenience across the board, whether it's with a cut that stays fabulous throughout grow-out phases or highlights that only get better with time. "Women — female entrepreneurs and on-the-go moms alike — want to style their hair with low-maintenance looks and still look good," he tells TZR. "Easy hairstyles such as bobs, lobs, and ponytails are the best for this."
Individuality is another key, albeit recurring, theme as the new year approaches. "When talking about trends, I always say the same thing. I think [hair] is a way to express yourself," celebrity colorist Christophe Robin explains. "People want things that will suit them, enhance their features, and be very much part of their personality."
Antsy for more than a trim? Keep scrolling to discover the complete rundown of the top hair trends scheduled to take 2019 by storm.
Throwback Hair Accessories
In 2018, a wave of '90s beauty trends flooded the runways, spilling onto our Instagram feeds — nostalgic hair accessories included. They're in major demand, and according to Jaxcee, the color director at Hair Rules in New York City, there's no signs of that slowing down anytime soon.
"Accessories that contrast the color of the hair (like the black bobby pins on models that walked the Cedric Charlier SS19 show) is a bold look," she explains. "Brunettes can do the same with yellow or blonde bobby pins. Red heads can get in on the contrast trend by using greens and blues to really make their color pop."
Geometric Parts
Master stylist Lacy Redway, whose client roster includes Tessa Thompson, Millie Bobby Brown, and Jourdan Dunn, says shaped parts will always be "in." But lately, she's gotten a tad bit more creative with them, bringing "'90s and early-2000s inspiration back like zigzags, triangle sectioning, and sharp angle parts" for added flair. And at Alexander Wang Resort 2019, models wore braids with star parts... a style that will give 'em the ol' razzle dazzle all year long.
The Suspended Shag
Alongside the bows, barrettes, and bobby pins of the '90s, one '70s-inspired hairstyle in particular has also been resurrected: the shag haircut. But this time, Jaxcee says curly-haired girls are getting in on the action too. "Shaggy layered cuts with bangs [give] movement with a little bit of an edge," she tells us.
Sculpted Protective Styles And Passion Twists
"I definitely think that braids with bangs will still be a thing," Dr. Kari Williams, the architect and creative genius behind the Goddess Locs worn by Willow Smith, Eva Marcille, and Meagan Good, tells TZR. "I [also] think sculpted styles are going to become very popular as braid artists will begin to recreate the silhouettes styled on straight hair, further demonstrating the range and versatility of braids, twists and locs."
As far as specific twist styles go, Los-Angeles based braider Jahmai says curly "passion twists" (similar to Brandy's, above) are up next. In general, "they're installed similar to Senegalese twists by braiding each section of natural hair down half an inch before crocheting the [synthetic] hair through the top of the braid and twisting down to the ends," she explains.
Languid Layers
According to Los Angeles-based hairstylist Carly Walters, gone are the days of choppy, "squared-off" layers that appear uniform in shape. Why? "I don't predict the style sticking around too long, as it requires a regular trim to maintain," Walters tells us. "More of the longer, face-framing layers look for low maintenance will replace them."
Wispy Bangs With Lots Of Texture
"Textured bangs are the 'it' things this year — should we expect to see more? Yes!," Wallace says. "Feathered and wispy bangs, heavy, and side bangs are all huge. [But] the bangs have to compliment the facial structure."
Side-swept bangs, for example, look amazing on those with round or square faces while short, cropped styles that hit straight across pair great with longer faces. If you have an oval-shaped face, experts say you can pull off all of these bangs and more, taking cues from celebs like Taylor Swift and Rose Byrne, along with Krysten Ritter.
Grown-Up Pixie Cuts
Contrary to popular belief, the process of growing out your hair after a drastic cut doesn't have to be a pain. In fact, "in-between" looks — especially the long pixie (read: Twiggy's signature hairstyle) — are super trendy right now, Wallace says.