The Unexpected Sweater Trend That's Making A Serious Comeback
@maria_bernad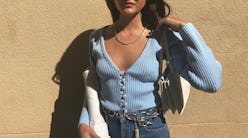 So maybe you have always subscribed to the whole, "the bigger the better" school of thought when it comes to cold-weather dressing. Your winter wardrobe is dominated by super-puffy puffers, teddy fleece and wool coats, and chunky, oversized knits. But over the past few months you may have found yourself inexplicably drawn to a more modest layering piece: the cardigan. Specifically, lightweight cardigans with delicate buttons and a cropped, close fit. The kind that conjures visions of grade-school librarians and pearl-necked ladies who lunch. Now that fashion insiders have re-sparked your interest, figuring out how to wear a short cardigan, should now be at the top of your winter styling to-do list.
The last time this variety of sweater was in vogue was the '90s, when minimalists embraced its humble simplicity — and like the leather trench and baguette bag, the '90s crop sweater is making a comeback. (Proof: The French brand Sézane had a 30,000-person wait list (!!!) for its mohair Barry cardigan last fall.) The new wave of cardigans will shatter any preconceived bias you have against the old-fashioned style — there's nothing "frumpy" or "dowdy" about it. Quite the contrary, actually. A shrunken cardigan can look entirely fresh and modern as evidenced by such celebrity patrons as Bella Hadid, Margot Robbie, and Kate Middleton. Instagram influencers are onboard with the cardigan fashion trend as well, showcasing all the ways you can make a button-up knit work for your individual style. Scroll on for cool cardi outfit ideas, plus must-have shopping picks to inspire your newest knitwear obsession.
Polished Cardigan Tucked Into Denim
Go for Parisian girl vibes with a polished, pastel style that's elevated with a quirky-button placket. Wear it alone as a top for a chic balance of sensual and casual.
Cardigans Layered Together
Tuck in a slim, simple cardigan, and layer under a second more slouchy knit jacket.
An Unbuttoned Sweater With Jeans
No sign of anything stuffy here. Strategically fasten a few buttons and leave the rest of your cardi undone to show a little skin. It's a fresh alternative to a cropped jumper, and looks modern and cool when offset by slouchier silhouettes on the bottom.
Colorful Knit Styled With Leopard Print
Abandon any associations with the librarian look by adding in a little animal print. A cropped ribbed cardi is the perfect cold-weather pairing for that leopard silk skirt you (and everyone) wore all summer long.
Slouchy Cardigan With Jeans And Boots
Slouchy and laidback is an easy way to bring this traditional style into the here and now, but there's something to be said for buttoning all the way up. It's a clean, put-together look that's sophisticated but not stiff.
Polished Sweater With Tie-Dye Top And Jeans
A classic lightweight cardi gets a cool downtown edge when styled with a tie-dye turtleneck and frayed kick flare jeans.
Sweater Cinched With A Belt
Shrunken doesn't always have to mean shorter. Opt for a longline style in a snug fit and wear it cinched over a flowing midi skirt. The contrasting silhouettes create nice, flattering lines, and it's a more polished look than you'll get with a boxy grandpa cardigan (even if you belt it).
Relaxed Shrunken Cardi
For a cool, casual ensemble, leave a shrunken cardigan unbuttoned and wear it with a simple black tee, jeans, and white sneakers.
Classic Fitted Knit And Skirt
Keep it classic à la Kate Middleton with a traditional black cardigan, worn fitted and fully fastened, paired with a pleated midi skirt in a winter-appropriate red tartan plaid.
This article was originally published on