No Memorial Day Weekend Plans? Make Sure You Binge This New Girl-Powered Show On Netflix
Melissa Moseley/New Line/Avery Pix/Kobal/Shutterstock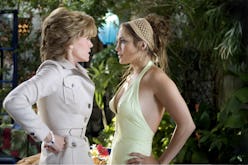 Many see Memorial Day weekend as a chance to get out of town, indulge in a little pool- or beach-partying with friends, or both. However, the holiday can also serve as an ideal time to rest and catch up on all the TV. So, for those who have not yet made plans and have a wide open calendar for all three days, you might want to consider making a date with Netflix. Yes, the streaming service has some seriously great options right now, and many of the things you can binge on Netflix right now feature some strong female leads to boot. From brand new original films exclusive to the streaming service to old favorites that will hit both your nostalgia and female pride, there are a ton girl-powered gems to stream for the holiday weekend. Not sure where to start? Listen up.
If you've been beyond busy with your work and social schedule and haven't flipped through your TV for a while, you may have missed the brand's newest flick Wine Country, featuring all of your OG Saturday Night Live actors and writers. Maya Rudolph, Ana Gasteyer, Amy Poehler, and Tina Fey help make up one of the funniest ensemble casts of the year in a plot that is so relatable to anyone with a long-standing girl gang of their own. The movie centers on a group of old friends who are getting together in Napa to celebrate a 50th birthday. Wine, laughs and, of course, awkward drunken moments ensue that will literally have you LOL-ing for two hours straight.
For those who want a hit of nostalgia, cue up the classic Monster-In-Law, featuring Jennifer Lopez and Jane Fonda. For those who haven't seen it (shame on you), the two legends team up in a different type of romantic comedy that centers on the complicated relationship between a possessive mother-in-law and a free-spirited bride-to-be. The quick wit and all-star cast will definitely make it a fave, if it isn't already. If you're a J.Lo fan, this is a must.
If you have the time and stamina to dig into a show, there are plenty of female-driven options there, too. You can try Netflix's original Selling Sunset, which follows a group of female real-estate agents selling pricey properties in Los Angeles while navigating their sometimes tricky personal lives. You can also go old school and re-enter the world of some old favorites, like Gilmore Girls. The eight-season series is available on the streaming service, as is the 2016 re-boot, so feel free to pay a visit to Stars Hollow and say hello to Lorelai and Rory Gilmore again.
These options not enough for you? Don't worry, there's more where that came from. Ahead, find 20 things you can binge on Netflix during Memorial Day Weekend, all of which feature strong female protagonists. And to save you on time in figuring out if the flick is for you, the trailer is included to streamline your vetting process. Your couch never looked so good, right?